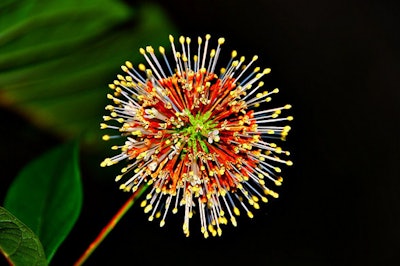 Fireworks are bright, colorful and eye catching, to say the least. Why should plants be any different?
While you wouldn't want to install explosive flowers in your client's yard, you can give them a little patriotic style with plants named after these light shows.
To celebrate the Fourth of July, here are some foliage fireworks.
Burgundy Fireworks Coneflower
Echinacea 'Burundy Firworks' P.P.A.F.
This flashy coneflower from

Monrovia

has vivid beet-red, quill-like ray flowers. Flowers are huge and long-lasting on stout burgundy stems above glossy foliage. Compact and vigorous. Stunning perennial color for beds, borders, wild gardens and containers. Herbaceous.
Photo Credit: Chicago Botanic Garden
Gomphrena Fireworks


Burpee's

plant grows to form a full, dense, landscape specimen, eventually reaching up to 3 to 4 feet tall and 1 to 2 feet wide. Tons of strong, tall stems are topped with exploding bursts of full, large 1-inch blooms in hot pink tipped with bright yellow. A showstopper in the garden and conversation piece when cut for a mixed bouquet.
Fireworks Fountain Grass


Monrovia's

colorful, upright growing grass has variegated stripes of white, green, burgundy and hot pink running the length of the blade. Purple tassles appear in summer. Plant as a specimen or in mass for a stunning display of color. A great addition to containers and beds near patios or decks.
Photo Credit: Saul Brothers
RELATED: Patriotic Plants