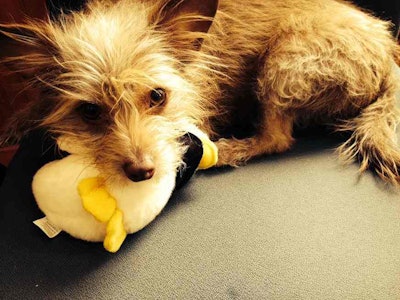 This pup is one furry employee that would rather give kisses than complaints to his "boss."
Indie works day in and day out crunching numbers alongside his mother, Anissa Bejaoui, and toy duck at Masseo Landscape in Tillson, New York. The landscape company offers lawn maintenance, snow removal, design/build, lighting, hardscape and drainage services.
A rescue from South Carolina with a dark past, Indie needed a little extra time to adjust when he first started on the job.
"He was originally very nervous around the big work boots worn by the staff here at Masseo Landscape," Bejaoui says. "With time, however, he has learned to love and trust his work family.
Want your pet featured on our website and in the magazine? Enter your photos today for our "Pets We Dig" contest at PetsWeDig.com.