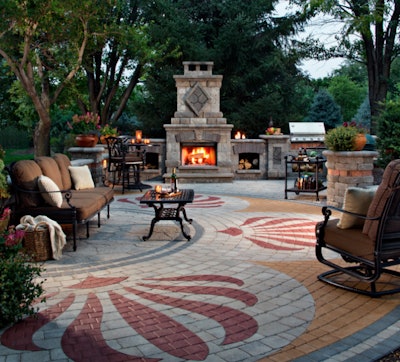 This Nebraska father-son team created a one-of-a-kind living space using pops of color and intricate designs.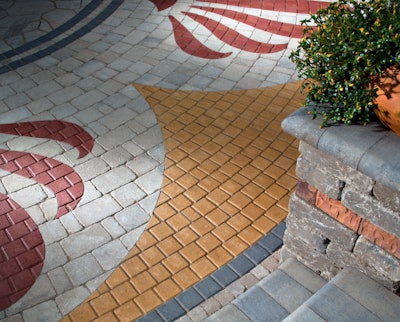 Jim and Justin Hampton, of Paver Designs, designed and installed this two-level, 2,200-square-foot project in Council Bluffs, Iowa, using mainly Belgard products.
They placed pavers over 1 inch of bedding sand and 9 inches of a crushed, recycled concrete base.
Then, they used Belgard Dublin Cobble and Mega Arbel pavers to fill the primary field.
Jim and Justin laid the design on the pavers and cut them individually. Once that was complete, they filled the area in with Belgard red and gold Holland Stone pavers.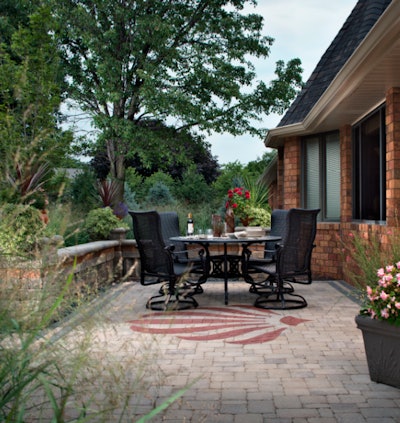 To enrich the colors, they used Techniseal's NuLook. Techniseals HG Plus polymeric joint stabilizer was used during the final compaction.
In the lower patio area, they installed a Harmony fireplace, wood boxes and grill island. The two-level backyard patio is connected by sidewalks to a nearly duplicated front courtyard.
Paver Designs won Hardscape North America's "Concrete Paver, Residential, Less Than 3,000 Square Feet" award for this project.
See more patio projects in the July issue of TLC.
Want your project featured in the magazine and on the website? Email your project photos and a description to lheartsill.rrpub@gmail.com.