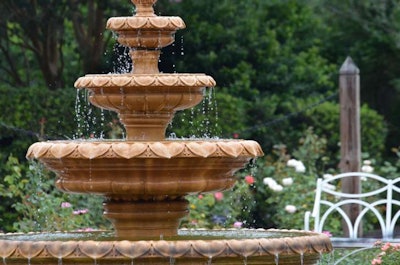 Water features can add a great deal of charm to any type of landscape.
From ponds to water fountains and koi ponds to pools, water features add a unique element to a client's backyard, apartment complex and more.
B&D Rockeries has put together a few helpful suggestions on what landscapers can use in client's landscapes to break outside of the typical water feature box.
One element to add is fountains.
However, there are different types of fountains to keep in mind, including spouting fountains, cascading fountains and pondless fountains.
According to B&D, spouting fountains shoot a stream and various streams of water into the air that splash down into a pond or rock bed. Cascading fountains are more along the lines of a trickling noise than a splashing sound, because there are typically multiple levels. Pondless fountains take up less space and the base is usually made from urns, columns, or boulders.
The second element to think about is the use of waterfalls.
"Among landscapers, there's often an assumption that, if you don't have a large amount of yard space, a waterfall is not a viable option," B&D Rockeries says. "However, that's simply not the case."
Small waterfalls can be used with rock formations that helps accent a small landscape. However, a large waterfall can be one solution to fill a large, empty space.