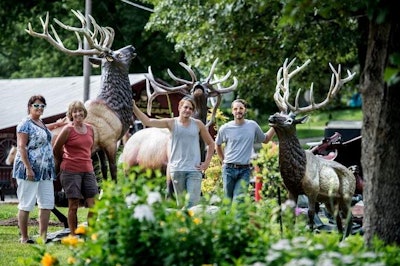 Many view landscapers' projects as works of art. But that's especially true with one Manito, Illinois, company.
When Artistic Landscape isn't maintaining lawns, the staff turn their focus to land statues, according to the Journal Star. From alligators and angels to elk and grim reapers, they have an interesting array of aluminum, hand-painted statues in their collection.
Owner Renita Holstlaw said she found a large aluminum elk a few years back, and the rest is history. Most of the painting on the figures is done by a local resident. The statues surround the 3-acre site where her landscaping business is located, and they are up for sale.
It didn't take long for the community to take notice, which kept her phone ringing.
I love how this landscaper did something completely out of the box and drew attention to her business — while actually creating another business that sells statues. While she's probably known as the "statue lady" in her community, she's surely noticed. And isn't that what all business owners want?