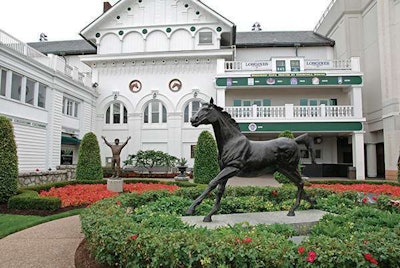 Churchill Downs doesn't disappoint with spectacular foliage.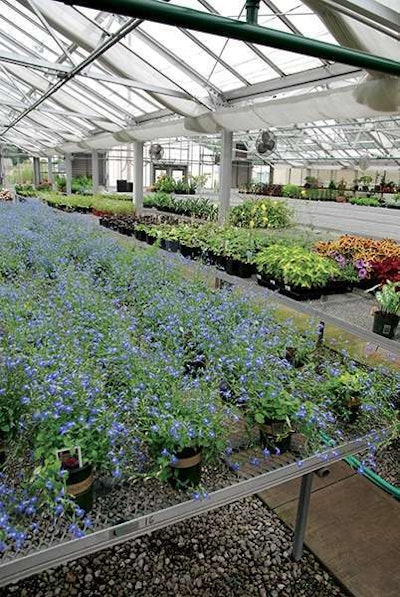 As the world turned its attention to California Chrome during this year's Kentucky Derby race, the grounds crew at Churchill Downs focused on something just as flashy: plants.
Keeping the 147 acres at this Louisville, Kentucky, attraction in immaculate shape is no easy task. More than 25,000 plants come out of its greenhouse each year, and tropical plants are especially popular, says Matthew Bizzell, director of horticulture at Churchill Downs.
They start installing the foliage after the last frost in April, which was in the middle of the month this year. Needing to be ready for the Kentucky Derby in May, Bizzell and his team added about 18,000 plants in a seven-day span. Bizzell's department, which has eight employees including him, does not maintain the turf, which is handled by a team of four crewmembers.
"The Derby is like a machine," Bizzell says. "You either go with the flow or you get run over."
Plants they use include mums, ginger, pansies, Gomphrena 'Pink Zazzle,' Japanese maples, European weeping birch, prostrate blue spruce, flowering kale and ornamental cabbage. They get some from Proven Winners and Monrovia.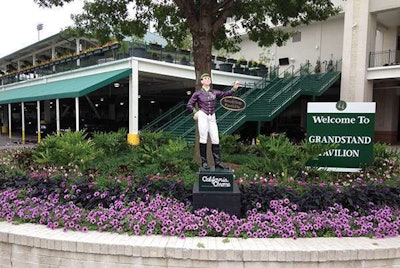 In the most formal garden at Churchill Downs, hellebores surround statues of Aristides, the horse that won the first Kentucky Derby in 1875, and Pat Day, the all-time leading jockey at Churchill Downs. Recycled tires transformed into pavers line the paddock area, and tropical hibiscuses enclose the space.
Want to see the grounds or museum while you're in Louisville for GIE+EXPO? Churchill Downs offers a historic walking, barn and backside van, inside the gates, twilight and Horses & Haunts tours – all for $15 or less per person with museum admission. Visit derbymuseum.org/tours.html for more information.
View more photos from the greenhouse, grounds and races.
[youtube OK80s7YKafM nolink]
5 Facts about Churchill Downs
1. In 1955, a $300,000 automatic sprinkler system was installed in the entire grandstand and clubhouse.
2. To fund construction for the track, Col. M. Lewis Clark raised $32,000 by selling 320 membership subscriptions for $100 each.
3. The track showed its first profit in 1903 – 28 years after its founding.
4. The first national telecast of the Kentucky Derby aired May 3, 1952.
5. Churchill Downs covers 147 acres, and on Derby day, crowds can reach more than 150,000.