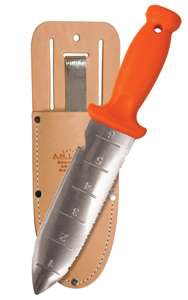 Thanks to everyone who entered to win a soil knife and sheath from A.M. Leonard as part of Total Landscape Care's last Editor's Picks Giveaway.
The lucky seven have been selected and they are:
1. George Rosser, Rosser Design & Landscaping LLC
2. David Forster, Monumental Lawn & Outdoor
3. Jason Griffin, Pristine Green LLC
4. LaRue Birger, Paradise Island Landscaping Inc.
5. Anthony Peek, Peek Landscaping LLC
6. Allen Burt, Pacific Green Landscape
7. Mike Riefner, Plantscape, Inc.
Didn't win this round? Don't worry! We're about to wrap up another Editor's Picks Giveaway!
Enter to win one of 10 ArborRain Tower Tree Hydrators from A.M. Leonard.
The hydrators have black-colored inside plastic that block sunlight to prevent mold. The zipper has a firm, secure lockdown to handle the water weight, without releasing on its own.
The deadline to win the tree hydrator is Aug. 13, so hurry!