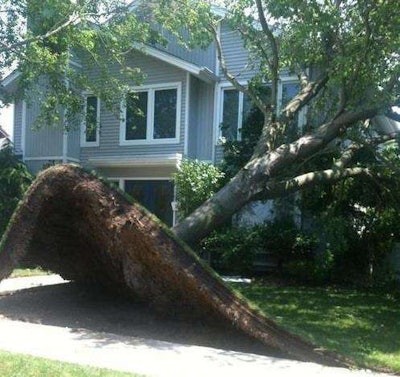 Everyone has problems in every business.
Whether it's someone coming in late consistently or a client is unhappy about the latest landscape design, there are always problems.
However, do you know how to deal with the wildest or most unusual problems?
Believe it or not, there are bizarre problems that happen out there, even in the landscaping industry.
For instance, Russo Power Equipment shared this photo (to the right) showing a very large landscaping problem.
Clearly the landscaping didn't want to take root and now that client is left with a large (and expensive) problem.
Unusual problems happen all of the time, but it's how a business can handle those problems that can make a difference to a client.
Here are five ways on how to handle the bizarre and just plain strange:
1. Take a deep breath.
Don't let the problem turn into a mountain. Take a step back and just take a deep breath. Every problem can be resolved – even if it ends up with an "I'm sorry" in the end. Taking a deep breath can give your brain a chance to think.
2. Analyze the situation.
After you take that deep breath, your brain has had a chance to think out a few scenarios. Ask your employee or crew member all the questions before jumping to conclusions about the situation. Ask the how, what, why, where and when, and most importantly, make sure to ask if everyone is safe.
3. Outline the problem.
Once you have asked the right questions, write down the problem on paper and different solutions to the problem. Make sure the cost is written down (either for the client or how much it will cost your company) and write out every solution possible.
4. Take action.
Now it's time to make the move. Take one of the scenarios from your outline and make it a reality. Whether it's replacing plants that died, dealing with a tragedy on the jobsite with a worker or approaching a client about something that went terribly wrong in the design, face it head on.
5. Accept the consequences.
Taking action is a hard step, but what can be even harder is accepting the consequences. It's time to pick yourself up and keep going. Learn from the mistake and move forward. Whether you need to implement more training, better policies or finding new clients, moving forward is the only path to take.