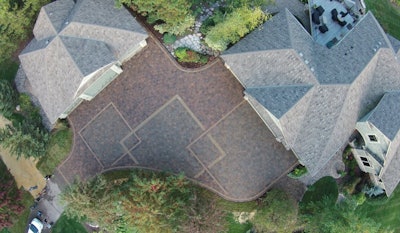 To give the homeowners a lasting driveway that also made a statement, The Greenskeepers balanced colors, textures and challenges at this Minnesota property on Big Carnelian Lake.
They started by installing more than 16 inches of base material – more than a typical driveway receives in their climate. To provide temporary parking during the construction, the crew set aside a temporary parking area in the lawn, which was later restored to the original condition. They also installed a Turfstone parking pad so the clients could store their pontoon boat.
The house was a forest green color, so color combinations were an important aspect. For the driveway's body, they used Anchor Block's Britton in Fieldstone blend color. They installed Anchor Britton Northwoods color for the inside of the accent squares and set them at a 45-degree angle. Anchor Kingston pavers in Prairie Tan color were used as accents for the outside border and inlays. "If you look closely, the center accent square overlaps one of the other accent squares and goes beneath the other," says Ben Graf, certified landscaper designer and MNLA horticulturist with The Greenskeeper.
This project didn't come without a few obstacles, however. The crew had to remove 4,000 square feet of an 8-inch thick, deteriorating stamped concrete driveway without damaging the high-end stonework on the house and detached garage. They also had to transition the new driveway to match up with an existing paver front walkway with a significant grade change. The project took four weeks from start to finish.
Project: Private residence, Stillwater, Minnesota
Landscaping: The Greenskeepers, River Falls, Wisconsin
Want your project to be featured in TLC? Email photos and information to [email protected].