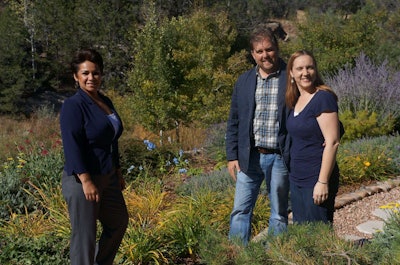 Mark Brotton had always been driven to achieve. As a high school student in Michigan, he and a friend formed a successful lawn care company, which often had as many as 50 clients. It was so successful that when he decided to enter the military he was able to sell the company.
After leaving the Navy and relocating to Santa Fe, New Mexico, Brotton worked for others while knowing he wanted to start his own company. "I wasn't a bad employee, but I found I was always thinking I could do things bigger, better, faster," he says. In 2001, he formed Living Water Irrigation and Landscape. Although the company performed specialized work in water conservation and planning, proper irrigation techniques and smart irrigation, much of the firm's early work was for local builders, who were undergoing a subdivision boom.
Brotton and his wife Lisa, who came on board in 2007, look back now and can pinpoint poor decisions. "By '07, the company was three-quarters of a million dollars in debt," Lisa says. "We were buying too many new pieces of equipment, making bad payroll decisions and taking on too much credit card debt."
Even worse than the crushing debt, says Brotton, was his ego and attitude. "I was a 'get it done' kind of contractor," he says. "There was an 'expendable' mentality that said to my people, 'I don't care about you.'"
When the economy took a turn for the worse, the work dried up instantly, Brotton said. Planned subdivisions simply went away, and Living Water was facing an incredible challenge with a big office, more than 35 employees to pay, a yard full of expensive equipment, tons of debt, and not enough work. "Things started cracking," he says. "My marriage and business were on the ropes, and every door was closing."
With the debt, the Brottons were unable to sell the company, so Lisa went to work reducing the company's debt, while Mark went to work on himself. He turned to Celebrate Recovery, a Christ-centered ministry that assists those struggling with a variety of problems. "It healed me and changed me, and I started to see that none of it mattered if I didn't have Lisa and the kids," he says.
For five years, the Brottons didn't know from month-to-month if they were going to survive. They closed the office, pared down the staff and began working from home. "I couldn't quit; that just wasn't a door open to me," he says.
Living Water began taking on more custom work and reworked a number of poorly designed irrigation systems. In 2013, things started to click for the Brottons. Living Water took on a large ranch project that opened the door for more work. The company also went through a rebranding process and website redesign that the Brottons felt more accurately reflect their business.
Brotton's new mindset enabled him to realize relationships matter. He now understands what the loyalty of his core employees, who stuck with him through the tough times, really means for him and for the company, and he says he's having more fun now. "A lot has happened," he says. "2014 is our coming-out party."
Editor's Note: Amy Materson is the managing editor for sister magazine Equipment World