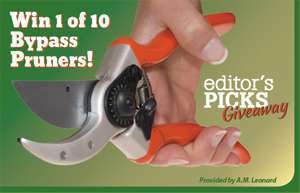 Another Editor's Picks Giveaway has wrapped up, and Total Landscape Care is ready to announce its winners.
Ten lucky winners will take home A.M. Leonard Bypass Pruners this time and be able to use them in their equipment lineup.
The 10 winners are:
1. Jake Young
Redzone Landscaping
2. Lee Rogers
Front Gate Landscapes LLC
3. Matt Diegelman
Picture Lake Landscaping
4. Reagan Hines
Circle W Landscape
5. Charles Bentley
Extreme Turf Lawn Care
6. Jim Lewis
Lewis Landscape Services
7. Michael Dean
Agua Fina Irrigation & Landscape, L.L.C.
8. Tina Simmons
Skyline Design & Landscape
9. Brian Emert
Eco-Logic
10. Karl Burnworth
Burnworth Landscape
If you didn't win this time around, don't worry! We have launched another Editor's Picks Giveaway where we're giving away seven Poly Scoop Shovels from A.M. Leonard!