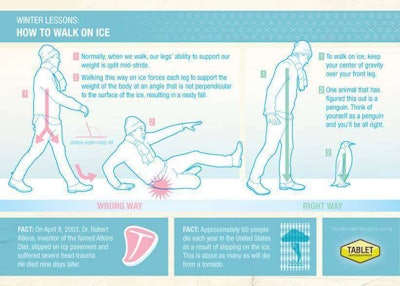 Getting up after slipping on ice is not as easy as 1, 2, 3.
In fact, serious injuries can be caused if someone slips on ice, and your business can't afford a worker being seriously injured.
Approximately 60 people die each year in the U.S. after slipping on ice.
As this infographic explains, walking like a penguin is the best way to walk over ice.
Yes, it may seem silly, but walking like a penguin means keeping your center of gravity over your front leg.
The Des Moines Area Community College gives this tips for walking on snow and ice:
In cold temperatures, walk with caution and assume that all snow covered or wet, dark areas on pavements are slippery and icy. Dew or water vapor can freeze on cold surfaces, forming an extra-thin, nearly invisible layer of ice that can look like a wet spot on the pavement.
Walk in designated walkways as much as possible. Taking shortcuts over snow piles and other frozen areas can be hazardous. Look ahead when you walk; a snow- or ice-covered sidewalk or driveway, especially if on a hill, may require travel along its grassy edge for traction.
If you must walk in the street, walk against the flow of traffic, as close to the curb as you can.
Taking shortcuts through areas where snow and ice removal is not feasible can be hazardous. Try to avoid straying from the beaten path.
Point your feet out slightly like a penguin. Spreading your feet out slightly while walking on ice increases your center of gravity.
Bend slightly and walk flat-footed with your center of gravity directly over the feet as much as possible.
Extend your arms out to your sides to maintain balance. Beware if you are carrying a heavy load—your sense of balance will be off.
If you must carry a load, try not to carry too much; leave your hands and arms free to balance yourself.
Keep your hands out of your pockets. Hands in your pockets while walking decreases your center of gravity and balance. You can help break your fall with your hands free if you do start to slip.
When walking on steps always use the hand railings and plant your feet firmly on each step.
Use special care when entering and exiting vehicles; use the vehicle for support.
Take short steps or shuffle for stability. It also helps to stop occasionally to break momentum.
During bad weather, avoid boots or shoes with smooth soles and heels. Instead, wear shoes or boots that provide traction on snow and ice; boots made of non-slip rubber or neoprene with grooved soles are best. Special ice cleats are also available.