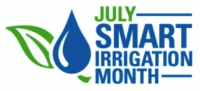 The Irrigation Association is looking ahead, specifically to the month of July.
Lowell Kaufhold, past chair of the Irrigation Association's Smart Irrigation Month Committee and president of CPS Distributors, will present a free webinar on Feb. 11 at 3 p.m. EST to share tips on how to get states to proclaim July as Smart Irrigation Month.
Irrigation companies, water providers and other industry associations can promote Smart Irrigation Month by lobbying states and local municipalities to proclaim July as Smart Irrigation Month. The webinar will last 30 minutes, with additional time for questions after the presentation.
In 2014, a record number of 11 states and nine municipalities issued official proclamations recognizing July 2014 as Smart Irrigation Month.
By the end of July, the initiative had received the following proclamations:
Alberta, Canada — City of Calgary
Arizona
Colorado
Colorado — City of Denver
Colorado — Denver County
Colorado — Mesa County
Idaho
Indiana
Indiana — City of Carmel
Indiana — City of Crown Point
Louisiana
Michigan
Nebraska
New Jersey
Oklahoma
Oklahoma — City of Oklahoma City
Oklahoma — City of Tulsa
Oregon
Oregon — City of Bend
Virginia