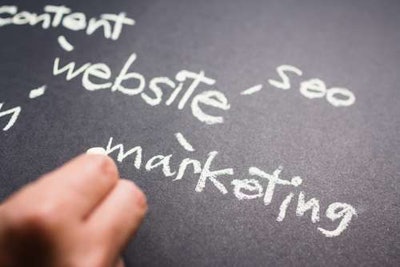 When we built our first website, at the urging of my little brother, it was little more than an online brochure. It was a place potential clients could go, after finding us some other way, to learn a bit more.
Back then the newspaper classifieds, Yellow Pages, fliers and word of mouth kept us busy. Things have changed.
Word of mouth continues to be a great way to get new clients. Flyers and direct mail work for some.
Newspapers and Yellow Pages aren't worth the expense for most of us. What does that leave?
Your website. For a modern landscaping business, it sits right in the middle of all your marketing efforts. An online brochure is not going to deliver what you want – new clients. And even if your website is more developed, it might not be doing much for you. Why not? Here are 5 reasons:
1. No one can find it. If your website can't be found by people looking for new landscaping or lawn care, then its value to you will be limited. There are ways to get your website found, and you need to understand them.
A good place to start is Moz Local. There you can learn about mobile marketing, advertising and search engine optimization, where you use keywords within your website to help you rise up the page ranks in search engines like Google. Sending potential clients to a bad website is like fertilizing a dead lawn. So consider points 2-5 before investing too much here.
2. Lousy pictures. The internet is a visual medium, and landscaping is a visual craft. Visitors to your site will process the images on the page before anything else. What are your pictures saying?
Imagine going to the website of a fine restaurant. Would the first picture you see be of the oven? Of course not. You want to see the food, not what they use to make it. Potential clients don't want to see pictures of your truck or mower. Show them what you do with the mower. That's what they will call you for.
If you don't have quality pictures of your own work, buy a camera and get some. But, in the meantime, use a few quality stock photos. They won't be authentic, so get a nice headshot of you, or a group photo of your team to prove your site represents real people. Whatever you do, don't steal pictures from some other landscaper's website!
3. Vague text. Landscapers do a lot of different things: lawn care, cleanups, leaf removal, design, installation, water features, low voltage lighting, etc. Your client is probably not looking for all of those things. They want one or two and want to know if your company offers that service.
Does your home page make it obvious what you do well? If not, people are likely to move on rather than make a call or email.
Bonus tip: Avoid pictures and widgets (weather or visitor counters) not related directly to the service you provide. This just creates doubt about who you are and what you do. Keep your site clean, simple and to the point.
4. Poor grammar and spelling. Visitors to your site are looking for a reason to leave. They are literally hovering over the back button. Bad grammar and spelling errors will send them running. Go over all of your copy very carefully. Then do it again. And then have someone else do it, too.
5. Slow loading. It's funny. Clients will frequently wait one to two weeks to meet with me. But make them wait four to six seconds while a home page loads? Nope, they are gone.
Use site speed test tools and see how your site performs. If the results are bad, look to reduce the size and/or number of pictures on the page. If your site is hosted by a big company that puts thousands of sites on a server, you may have to switch hosts. The time and small amount of money you spend to speed up your website will pay off with more calls and emails.
These suggestions are simple but can make a big difference to your website and business. The problem is often in following through. If you built your site yourself, you might have a hard time recognizing its deficiencies. You may be a victim of the "IKEA effect" – overvaluing something because of the effort (or money, if you paid someone) you put into it.
Force yourself to step back and take a hard look at your website. The vast majority of potential clients are going to use the internet to make a decision. If your website is not bringing you business, something is wrong.
Ask family and friends to give you an honest assessment. Post on an industry board asking for a critique. Once you have some valuable feedback take action. Your business will thank you.
EDITOR'S NOTE: This article was written by Ben Bowen. Bowden is a third generation landscaper enjoying work as a landscape designer and manager at Ross NW Watergardens, a family design build firm in Portland, Oregon. Follow along to Bowen's monthly series on TLC.