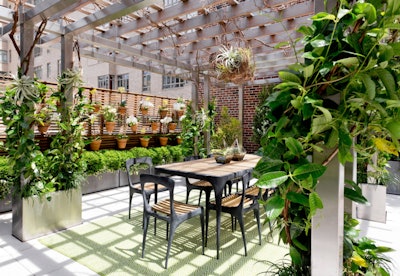 City gardens often present a challenge. With space at a premium, they are generally small, frequently have unwanted views and little privacy and — in the case of rooftops and balconies — may not have any natural soil for planting. That being said, overcoming these challenges is well worth the effort.
Ask your clients to imagine stepping off the city streets and coming home to their own private, leafy oasis. Perhaps they take a moment to listen to the rustle of leaves and trickle of an outdoor fountain or watch a wild bird hop through the foliage. Having just a small slice of outdoor space can offer a welcome respite from the noise and nonstop pace of urban life.
Here are eight design ideas from urban gardens to inspire your customer's own tranquil outdoor retreat, whether it's a narrow city backyard, a tiny balcony or an urban rooftop.
1. Layer your plantings. Stepping out on this London terrace feels like being whisked away to the tropics, thanks to the layered plantings of bold tropical foliage and hot-colored flowers. For a particularly lush look in a city garden, allow enough planting areas to accommodate small plants in the foreground, fillers for the middle ground and taller plants for screening. Here, an L-shaped planter behind two seat-height storage benches provides enough soil to create a layered planting bed.
2. Add a water feature. Your customer's garden will not feel like a tranquil retreat if they can hear the sounds of busy streets or highway traffic. Mask the noise of the surrounding city with the soothing sound of running water. Even a small water feature that incorporates a fall, splash, gurgle or trickle can be very effective in distracting a listener from unwanted urban sounds. Additionally, water will attract wild birds and insects to your urban oasis, providing them with a much-needed resource.
3. Consider the design from above. Think about how the garden will be viewed from inside the home. For sunken patios, consider adding graphic elements to the design that are particularly pleasing when viewed from above. Here, an irregular paving pattern of mica schist stones surrounded with stabilized crushed aggregate add year-round interest for those looking down at the garden.
4. Take advantage of containers. Don't let the lack of soil on the rooftop, balcony or elevated terrace keep plants out of your garden design. A handful of large containers planted to the brim with lush foliage and colorful perennials can transform an urban space. The could-be-barren rooftop seen here is a lush urban escape — perfect for relaxing in a hammock and watching the sun sink below the New York City skyline.
To get an urban-jungle look, choose containers large enough to grow a variety of small trees, shrubs, perennials and herbs.
5. Add a soft area. Expanses of green grass look appealing but can be impractical in city gardens. Limiting the lawn to a small patch cuts down on the maintenance but still offers a soft spot for throwing down a blanket or playing a game of cards. In urban gardens without the soil for grass, get the same appealing soft look with a durable outdoor rug or artificial turf.
6. Design for privacy. When surrounded by neighboring buildings, hanging out in a city garden can feel less like a relaxing retreat and more like a public display. Create more privacy by screening the garden with fences, awnings, and tall plants. Here, a midlevel terrace surrounded by skyscrapers feels secluded, thanks to a shade pergola planted with vines and slatted fencing covered in potted orchids.
7. Create more planting space. Urban gardens often create nontraditional planting spaces, and thinking beyond planting in the ground can open up your options. Here, a stacked shelf made of recycled wooden fruit crates and industrial pipes has become a treasure trove of botanical specimens. The shelves hold moss-wrapped kokedama, a small bonsai, tiny potted cactuses and a collection of curly air plants (Tillandsia spp.).
8. Blur the boundaries between indoor and outdoor spaces. Due to the density of city living, apartment square footage often comes at a premium. Expand the living space by creating an easy transition from indoor to outdoor space. Here, glass doors rotate to open the living room to the outdoor lounge. In cold climates, double-paned, insulated glass is well worth the investment to minimize heat loss in winter.
EDITOR'S NOTE: This article was written by Lauren Dunec Hoang, a Houzz contributor Hoang is a landscape designer and was previously a garden editor for Sunset Magazine and in-house designer for Sunset's Editorial Test Garden.