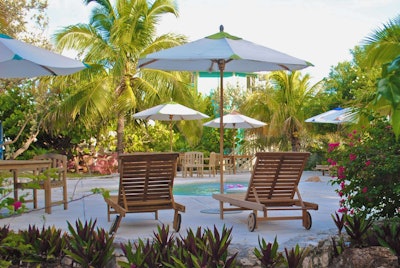 Want to enhance your client's outdoor living space? To come up with a great patio, careful planning is essential. But when you come across various options for design and materials, it becomes more difficult to choose which ones are right.
A patio is the perfect setting for relaxing and entertaining outdoors. The addition of striking landscape design gives the home an instant boost in property value, but before you build an outdoor haven, below are important considerations to keep in mind to ensure that your clients get the patio they deserve.
1. Purpose
A professional contracting and maintenance company should know the purpose of their work. In your case, you should ask your clients why they need or desire a patio.
Is it primarily for entertaining guests? Is it meant to be a private nook where your client can enjoy a book and a refreshing drink on summer afternoons? How your client intends to use the outdoor space will help determine the patio's design, location size and materials to be used.
2. Budget
To ensure the success of your patio project, you should know what your client can afford. Once your customer has a budget in mind, you should plan a patio that fits his/her financial capability. Knowing the budget firsthand is vital since it can affect the size, contractor, permits and design features of the project.
3. Location
For smaller properties, clients don't usually have much choice in terms of where to build the patio. But for clients who have more room that you can work with, you should plan the patio site wisely. Make sure not to waste resources and space on building a patio that ends up being too hot and far from picturesque views.
Other factors you should consider when picking a location are:
4. Lighting
You need strategic lighting to add beauty to a patio project. Consider the best practices in choosing LED lights to allow your clients to save on electricity costs. Aside from creating the right ambiance in an outdoor space, LED lights are efficient and increase safety, particularly at night.
Ask your clients if they want to consider getting post lights, path lights and moveable lanterns. If your customer's patio is covered, you can also recommend adding overhead lights.
5. Material
Materials are crucial elements when coming up with your next patio project. Does your client want to walk barefoot when outside, for example? If so, you probably need to avoid using natural stone because of its large joints and rough texture, which aren't feet-friendly.
For clients with a limited budget, concrete is a good option. It's slightly more affordable than pavers; however, it cracks eventually, making it not ideal for a long-term investment. Pavers, on the other hand, are a great choice for any patio because of the lifetime warranty that protects against color fading and cracking.
6. Seating
Most clients will tell you about their built-in seating preferences for a patio. Built-in seating is highly encouraged as it has plenty of space for homeowners and guests to sit down. But since it's not the most comfortable, you may also suggest integrating other seating options for your client.
You should also consider what other accessories or furniture clients would want to include on their patio. For instance, you can allocate a space where your client can grill and enjoy some barbecue or add an art piece.
7. Design
The style and design of the patio should reflect the personality and lifestyle of your client. Does your client want his/her patio to look classic, minimalistic or contemporary? Whatever design your customer wants, ensure that it blends well with the home and garden.
When gathering ideas for your patio project, it's good to start by looking at various patio designs. What's important is that you don't focus too much on design and make sure to combine functionality and style effortlessly.
8. Unforeseen Costs
When you talk about patio pricing, it's important to consider that there's more to it than meets the eye. The cost of materials will not only comprise of stones, paver or concrete but will also include a base-layer material such as sand and gravel. You also have to think about the costs of managing grading changes and drainage issues.
Building a patio is a complex process. Inform your client beforehand that there's a possibility of extra costs as you go through the project. This is because there may be underlying issues which only appear once the project has begun.
A patio is an outdoor living solution that allows your client to improve property value and get the most out of a space. And like any investment, you must take careful consideration to ensure the project's success and make your client happy.
EDITOR'S NOTE: This article was written by Rachel Hennessey. Hennessey manages the Pools and Landscaping Division of Hennessey LLC.