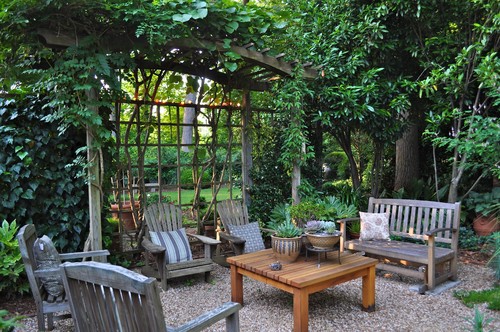 Having a general plan in mind for a client's outdoor setting is a good idea, but are you thinking about every option?
There are a variety of materials out there that landscapers can use on a daily basis that seem to be forgotten.
Donald Pell, a Houzz Contributor and landscape designer, came up with a list of 10 materials that can be used to create an ideal outdoor living space.
Gravel
In many cases finding the magic of the landscape means not competing with or decorating what is already there. Pea gravel, ⅜-inch angular gravel or decomposed granite can make a nice surface to walk on. What's really important is to site the paved space thoughtfully.
Boulders
Boulders will not rust or rot. Pell used the example of Zen gardens using boulders as a symbol of beauty. Using natural stones in the area can be even more beneficial than purchasing from a commercial company.
Slabs
Cut slabs, both new and antique, can come from quarries, landscape supply houses or architectural salvage yards. These slabs can be fairly simple to install and are a nice way to experience the topography of a landscape.
Stone Curbs
Using antique granite or flagstone curbs can be great if a landscaper is adding older materials to an existing site.
Irregular Stone
Stone is a no-brainer to create harmony when it's executed this well.
Patterned Stone
Patterned flagstone can be used in a grid. The stones can be set on bond, which is easier to install than pavers in a mosaic. This also leaves the opportunity to expand on it in the future.
Sandstone
Sandstone walls blend well in outdoor areas like kitchens and bars.
Concrete
Not all concrete is created equal. Pell says materials like concrete, glass and steel need wood finishes to bring life to the compositions.
Polycarbonate
Polycarbonate panels can create screens that allow for light and privacy. With a modernist sensibility, mixing materials like these with materials in an older vernacular can be artfully done.
Steel
Using weathered steel, eliminates maintenance needs, like painting. This material is used to create walls, bridges, treads and whatever you can imagine. It has even become more common in civic spaces.