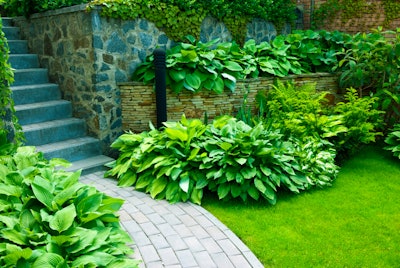 If your clients are requesting a restful space that allows them to recharge and find balance, one way to achieve this is to create an all green garden.
The eye is most sensitive to green light as the color stimulates two of the three types of cones in the human eye, both long and medium wavelengths, according to The Physics Factbook. Due to the ease of perceiving this color, it can help create a relaxed atmosphere.
While the current design trends in the landscape are focused on providing lots of color in an outdoor space, if you're looking to be ahead of curve, monochromatic gardens are coming.
"It's interesting because we're seeing all green gardens and lots of white plants coming down the pipe from breeders and I think that's where gardening will be in a few years," says Kate Karam, editorial director for Monrovia.
Limiting your plant palette to just one color may seem prohibitive at first, but it can actually help you home in and realize just what a wide variety there is when it comes to colors and textures of green plants.
"Monochromatic gardens and planters are alluring when they are swathed with one color or highlight subtle differences of a single hue," writes Jan Johnsen, co-principal and owner of Johnsen Landscapes & Pools, in her book Gardentopia.
Typically, green is relegated to simply being a background color to show-stopping bright red or pink blooms, but it doesn't have to be this way.
An all green garden can take center stage in a landscape if you follow these design principles:
Function
Just like any other landscape design, it's important to figure out the function of the space first before getting caught up in the details about which particular species you want to use in your client's backyard.
Whatever green plant you select should have a purpose rather than just fitting to criteria of, "Well, they were green." Tall evergreens can be used to screen an unsightly view or provide some all-season structure if the majority of the other plants are deciduous. Lady's mantle can serve as a ground cover on a slope that struggles with erosion.
Repetition
To make sure the garden doesn't become a hodge-podge of every green cultivar you could get your hands on, make an effort to utilize repeated elements throughout the space to create an overall unified picture. This will be more important in contemporary designs where it's better to use plants like boxwood to provide symmetry and structure.
Planting en masse with perennials or ornamental grasses can also provide the repetition the design needs. Just keep in mind not to overdo this, as it can come across as very dull and monotonous if you end up repeating the same plants too much.
Shades
There are so many different shades of green from gray-greens like sage to blue-green such as teal to yellow-greens of chartreuse and even these can appear to have different colors based on the lighting.
If working in a more shaded, woodland space, take advantage of turning this into a sea of green. Ferns and hostas thrive in this sort of setting and there are many varieties that range from dark green to a bright pistachio hue.
Even in containers, you can contrast green by combining the vibrant yellow-green of sweet potato vine and the much darker green of an elephant ear cultivar such as 'Heart of the Jungle.'
Textures
Likewise, texture is another way to provide variation in this monochromatic design. You can opt for some silvery green lamb's ear that is fuzzy to the touch or add some shine to the space with sweet bay like 'Little Ragu' that has a polished dark green appearance.
Juniper trees offer more delicate and detailed foliage that can stick around all year, while coleus 'Green Lantern' boasts ruffled lime-colored leaves that are quite distinct. By contrasting plants with large, broad leaves like an agave with smaller, more delicate foliage like Japanese spurge, you can create dramatic combos.
One way to make sure you are making the most of texture is to view the plantings in the black and white. If distinct plant forms and groupings are able to stand out, you know you've achieved a good mixture of textures.
Shapes and sizes
Of course, the other obvious element is integrating different size and shapes of green plants in the space. Don't feel like you are stuck with just boxwoods and similar shrubbery. Consider adding taller ornamental grasses such as horsetail and ground covers like Japanese forest grass and spirea 'Golden Elf.'
Even though they are rarer, there are green flowers you can take the time to include as well such as bells of Ireland, hellebores and hydrangeas like 'Everlasting Green Cloud.'
Once you know what green plant material meets your design's needs, you can work to including seating, water features and whatever other elements will help your customer feel at peace.