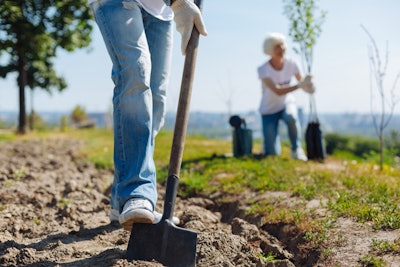 In October 2019, the YouTube star Jimmy Donaldson, also known as MrBeast, reached 20 million followers on his channel.
After receiving continued feedback from his followers on how he should commemorate this achievement, Donaldson began the #TeamTrees campaign to raise money for the purpose of planting 20 million trees.
"I personally haven't always been the most environmentally friendly, and a lot of you might be of the mindset of the old me, which was basically someone else will figure it out," Donaldson said in his Oct. 25, 2019, YouTube video. "But that's not how it works. We genuinely need all the help we can get, and honestly, I've done everything I can. I've literally tried my best to do everything I can, and now it's your turn."
Donaldson's channel is well known for showcasing attention-grabbing stunts and donating thousands of dollars on a whim. To start the campaign off, he himself donated $100,000, and one day later, he donated another $100,002.
With each tree costing only $1, the goal for the campaign was to raise $20 million by Jan. 1, 2020 in partnership with the Arbor Day Foundation's reforestation program.
"We partnered with the largest non-profit tree-planting organization in the world, the Arbor Day (Foundation)," Donaldson said in his Oct. 25, 2019, YouTube video. "For every dollar donated, they will plant a tree. Arbor Day and their partners are the pros. They've planted hundreds of millions of trees, they have a high rate of survivability and they genuinely do care."
On day one of this project, Donaldson posted a video of he and his team planting 300 trees on their own; after posting a call to arms on his Twitter account, volunteers in the area arrived the next day and were able to plant 1,400 more.
"Unfortunately, despite having a large number of people, we came nowhere near close to planting 20 million trees," Donaldson said in his Oct. 25, 2019, YouTube video. "But I don't want to let you guys down, so I devised a plan where we can actually plant 20 million trees, but I need your help."
With the support of more than 600 influencers, the Arbor Day Foundation and others across the internet, the campaign surpassed its goal in under two months.
"#TeamTrees is a prime example of youth leadership – especially the Gen Z 'Change Generation' – moving beyond retweet activism and harnessing the power of social media to address key societal issues," Dan Lambe, president of the Arbor Day Foundation, said online. "The 20 million trees planted through this campaign will absorb and store 1.6 million tons of carbon, the equivalent of taking 1.24 million cars off the road for a year."
Influencers across all channels came together to support the cause, which spurred on a little bit of healthy competition amongst the larger donors, but YouTubers weren't the only ones in on the fun.
According to Business Insider, Twitter CEO Jack Dorsey donated twice for a grand total of $350,000, Salesforce CEO Marc Benioff donated $900,000, Verizon's Green Team division donated $100,000 and Tesla CEO Elon Musk donated $1 million.
"#TeamTrees, we did it!" TeamTrees posted on Instagram. "20 million trees – in less than two months – is an incredible accomplishment and it belongs to all of us. Whether you donated, created content or simply told your friends about #TeamTrees, this win is yours. Remember this feeling when you have a goal that people tell you isn't realistic. Remember this when you're in need of some hope."
According to the Arbor Day Foundation, the trees will be planted all across the globe in forests that are both on public and private lands in areas of great need. The final list of locations for planting is still in progress, but the Arbor Day Foundation says the first round of planting projects will be distributed across Africa, Europe and the United States. All #TeamTrees trees will be planted by December 2021.
"We only have one Earth, and it's important that we take care of it," Donaldson said in his Oct. 25, 2019, YouTube video. "This is your chance to make a difference. This is our chance to show the world we care."
For those still interested in donating to #TeamTrees, click here.