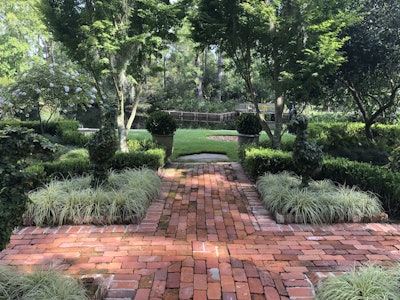 As the editor of Total Landscape Care, I've had the privilege of getting to visit landscapers from across the country. We've met with operations large and small, and each one has an interesting story to tell.
This year I traveled to South Carolina, Georgia and Wisconsin to see what made these landscaping companies tick. Check out the profiles on the five businesses I visited with as part of our Day in the Life of a Reader series below.
Click on each company's name to read our original profiles on them:
1. The Greenery, Inc.: The oldest landscaping company on Hilton Head Island, South Carolina, The Greenery is employee-owned and offers full landscape maintenance and construction for both commercial and residential customers with a complete retail garden center. It has branches in Hilton Head Island, Beaufort, Bluffton, Palmetto Bluff, Charleston and Savannah.
The company reached $65 million in revenue last year. The Greenery credits its success to having a strong safety culture, ensuring quality work and efficient production.
2. TideWater Landscape Management: Founded by Eddie DeLoach, the current mayor of Savannah, Georgia, TideWater celebrated its 35th anniversary this year. It provides design/build and grounds management services for commercial properties, with its Gro-Masters brand providing chemical services to residential customers. TideWater has a number of locations throughout the Southeast and focuses on "Growth through Integrity."
Skip Thompson, CEO of TideWater, actually doesn't call the companies he does business with customers, but rather partners. TideWater's keys to success include listening, being proactive and never stopping teaching and learning.
3. Bret Achtenhagen's Seasonal Services: Based in Mukwonago, Wisconsin, Bret Achtenhagen's Seasonal Services is located on a property that was used to raise quarter horses and cattle. It has been in business for 25 years and Bret Achtenhagen has worked hard to craft a positive company culture.
The company serves medium to high-end residential customers with a desire for a sophisticated, unique high-quality landscape. "Details Matter" is the mission statement of this company. Achtenhagen makes a point to invest in materials that last, as he wants to ensure the landscapes his company creates endure for generations.
4. Kujawa Enterprises, Inc.: A business that hasn't been afraid to pivot over the years, Kujawa Enterprises, Inc. (KEI), based in Oak Creek Wisconsin, caters to high-profiles clientele. By focusing on this niche, Kujawa receives a boost in branding as customers often see the orange trucks and orange uniforms of employees working outside the best companies in town every day. This iconic orange also helps attract new employees to the company.
KEI offers landscape maintenance, landscape installation/enhancements, snow and ice management, holiday lighting and interior plantscaping to its customers. Kujawa Enterprises was also acquired by Sperber Landscape Cos. this year.
5. Ginkgo Leaf Studio: Jim Drzewiecki's landscape design firm can be found nestled in the historic district of Cedarburg, Wisconsin. Drzewiecki specializes in residential design work. Working alongside him is landscape designer and horticulturalist Hannah Paulson. The two work well together and also offer project supervision as one of their services to customers. Ginkgo Leaf Studio has won 12 Best of Houzz Awards.
Drzewiecki utilizes his degree in architecture to incorporate design elements from the house into the landscape design. Often times when they've finished people can't tell what parts were added by Ginkgo Leaf and what parts were done when the house was built. Eventually, Drzewiecki would love to be known as the go-to landscape designer for mid-century modern homes.
If you would like to be considered for a site visit and company profile article, please reach out to me at jillodom@randallreilly.com.