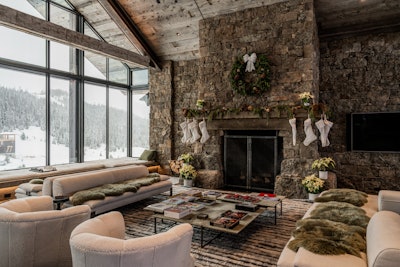 Blanchford Landscape Group
At Blanchford Landscape Group in Bozeman, Montana, owning a franchise with Christmas Decor, the nationally recognized holiday lighting company, allows them to offer holiday lights to clients in Big Sky and West Yellowstone.
But Blanchford also offers interior decorations like live greenery to create a "custom holiday experience" for their clients. Since many Blanchford clients are vacation homeowners, the last thing they feel like doing is decorating when they arrive at their second home.
According to Barclay Hook, a horticulturist and the garden services manager for Blanchford, live greenery can create garlands and wreaths that add a festive touch. It evokes a sense of holiday magic in a classy and elegant way.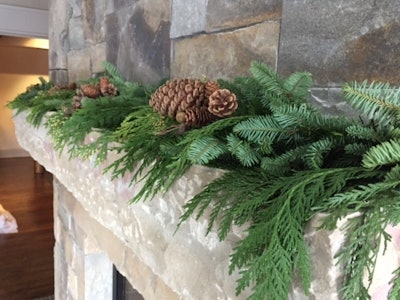 Hook says that they'll add garland around doorways, to the fireplace mantel, and on countertops. They have also created custom-designed wreaths for both indoor and outdoor decorations.
"We have also taken care of bringing in and lighting the Christmas tree so that when our clients arrive at their vacation home, it's ready to go," she says. "It's all about a custom experience. The average Christmas tree in a Montana home is 10 to 12 feet tall, but the largest tree we have brought into a home and decorated was 24 feet tall."
Blanchford Landscape Group also has an interior plantscaping division and finds ways to use houseplants as part of their holiday decor.
The Norfolk Island Pine, which resembles a miniature Christmas tree is a popular choice. But clients also like succulent arrangements and Olive Trees. The company also creates custom arrangements and uses a lot of live greenery in these.
While people often think about lights as the main way to decorate, Hook says that landscapers with an eye for design can do so much more than that. Creating decorations with custom greenery can be a special niche that busy clients really appreciate.
It's all about giving off that holiday feel. With the right decor, it's easy to make a home feel like a winter wonderland.