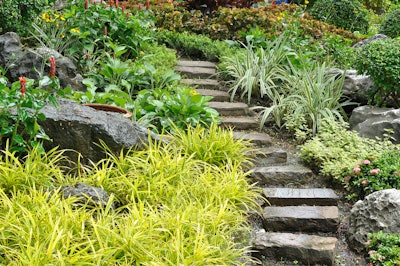 If you have customers with sloped areas in their yard, it can sometimes be a bit more difficult to find creative and interesting landscape design options to fit the space.
Regardless of whether your customers have small or large spaces or whether they live in the city or countryside, take a look at a few creative ideas you can implement when landscaping on a slope.
Decks and terraces
A few obvious options when dealing with a sloped landscape are to build and add decks or terraces.
Building a deck that towers over a downward-sloping landscape provides your customer with a perfect space for entertainment while still offering a beautiful view of the rest of the yard.
There's also the option of raising the deck up on pillars to create either a storage area or space for children to play, depending on the amount of space your customer has handy.
For the idea of terraces, don't rule out the option of cutting into a sloping area, as it will clearly define the terrace and give the space an overall stylish look.
Banked borders and living murals
Some plants will thrive just as well when growing on a slope as they would in a level bed, so don't be afraid to add in garden beds that are raised up from the path, as this will help create a green sort of corridor.
Also, keep in mind that having small steps that are cut into the bank will also allow you easier access when having to weed and prune the plants in the future.
For customers with yards that slope upward, the rear boundary will be more prominent, so why not make a feature out of it by creating a planted wall?
Or if the idea is a little too farfetched for your customer, another option is to grow trees in pots along the wall, or you could even train plants to climb the wall to act as an eye-catching backdrop.
Plants and pathways
When planting on a slope, it's important to remember that you want the plants to be a mix of hardy, low-maintenance plants instead of other varieties that will require a lot of time, care, and attention.
Along those same lines, keep in mind that you don't want your customer's slope to look neat and uniform; there should be a good balance of relaxation and organized chaos in the space, as this will keep it looking more fun, fresh, and feisty. Plus, if you already have this wilder look going on, it won't require you to have to come back to trim and prune as often as a more manicured and orderly look would.
A landscape that's sloped will be more easily seen from your customer's home, so why not create a long, winding pathway in the space that links the garden back to the house? Not only will it offer the element of practicality, but it will also serve as a nice focal point to the landscape when seen from above.
Zones and rails
Regardless of what elements your customer currently has or would like to see in his/her garden space, there's no denying that there is a zone for everything.
For instance, outdoor kitchens should be located closer to the house for ease of use, whereas an outdoor reading and lounging area should be located a bit farther away to ensure there is peace and quiet.
Take advantage of the natural slope in your customer's garden by adding in areas that would require more privacy. With the simple addition of a separating terrace and some comfortable garden furniture, your customers will be kicking back to relax in no time.
While walls and terraces are excellent additions to a garden space, it's true that without properly installed rails, they can be dangerous to your customers.
There's a good chance that local building codes will require you to install railings if there is a grade change between a terraced area and the ground, so be sure to check these laws before making any definite plans for the space.
Seating, materials, and steps
While your customer's space might not be the ideal location, for whatever reason, for playing and entertaining, it could very well still prove to be an excellent area for just sitting back and relaxing.
Slopes can be walled to create beds, and horizontal slices of lawn that are just big enough to put a bench on can be included in an area to give it sort of an outdoor amphitheater look.
It's good to keep in mind that when working with sloped areas, the materials that are used in terracing an incline can also act as eye-catching elements, just like plants.
Since the area is sloped, there's a high chance that somewhere in the area there are steps, but don't think that you have to just keep them looking ordinary. Instead, try growing grass on the stairs to create a carpet-like feel when customers walk on them. Not only does it give them a nice, soft surface to walk on in the cool of the day, but it also looks unique to see green steps accenting a sloping space.