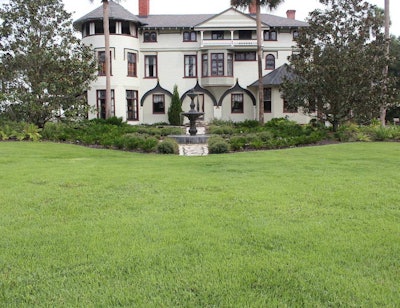 Raji Corey of Corey Enterprises explains how their team tackled the Stetson Mansion lawn restoration project and brought this lawn back to life. The Stetson Mansion is a 9,000-square-foot home that sits on more than 2 acres in the heart of DeLand, Florida.
Q. What lawn problems were there when Corey started?
A. There were several problems present when we started the lawn restoration. Excessive weeds were growing throughout the lawn. Herbicide burns were present due to some improper attempts to eradicate the excessive weeds. Fire ants and their mounds had set up all over the lawn. The grass was in poor health and color.
Q.What were the steps taken to improve the lawn?
A. Over six applications, we applied specific combinations of herbicides and insecticides to stem weed growth in areas and to eradicate any unwanted insects that cause harm to the plants and lawn. We fertilized the lawn and shrubs to provide them with the proper nutrients to promote health growth that would green up the grass and fill in dying areas and to thicken up the grass to a healthy state.
We put down fire ant control and bait to eradicate the many fire ants that had taken up residence around the property. We over-hauled the irrigation system by adjusting and/or replacing sprinkler heads and set the irrigation timer for the optimal settings for the season.
There were areas of the lawn that were heavily compacted and therefore would not take in the fertilizers and water that it needed as easy as the rest of the lawn. To fix this we aerated the compacted soil that let the area take in the fertilizer and water and therefore grow in full and healthy.
Q. Where are they in the process now?
A. At the start of the process, we let the owners know lawn restoration is a process and it would take time. As this past season has been unpredictable at many times, we gave them a goal that was within reason and said that by October we would have the lawn 60 to 70 percent improved during the state the lawn was in when we began.
At this point in time we have exceeded our expectations and see 80 to 85 percent improvement from the start of the restoration.
Q. What are the expectations when the process is complete?
A. When the restoration process is complete we will continue to monitor and maintain the health of the property to keep it healthy and look beautiful.
Q. How much maintenance work will be necessary when the lawn renovation is complete?
Nothing more than weekly mowing and 3 to 4 fertilization applications a year as well as general pest controls.