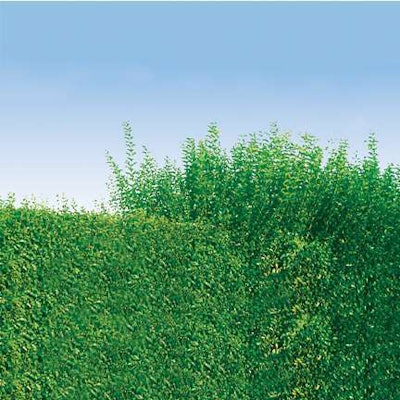 For decades, plant growth regulators (PGRs) have been helping turf and ornamental professionals work more efficiently. These products, which slow down plant growth, have been a welcome tool in plant production, along roadsides and on golf courses – reducing labor and equipment costs. Yet, the market for PGRs on the residential side of the industry has shown, well, slower growth.
"We're still barely scratching the surface," says Jim Goodrich, product manager with PBI Gordon.
While landscape contractors have been slower to embrace PGRs, Goodrich says they are beginning to show more interest in them, especially as more states pass laws prohibiting the disposal of yard wastes in landfills. This could be the extra incentive needed to give landscapers the chance to work with PGRs.
"It's all about comfort," says Yan Chen, researcher and associate professor of horticulture at Louisiana State University. "Many landscapers are reluctant to use anything that is new, even in instances where it can be helpful. With the knowledge and hands-on experience, they will begin to use PGRs more. The best scenario is using them for shrubs and hedges — anything they need to prune regularly."
Goodrich says they've already seen some steady growth in the purchase of PGRs for landscape ornamentals, including shrubs and hedges, but he predicts the biggest area of growth will be using PGRs for fruit and bloom suppression in residential, as well as commercial, areas.
"Most of our growth is focused here," Goodrich says. "It's surprising to me, when I conduct seminars, to hear that so many people haven't heard of using PGRs for fruit suppression. Some have never even considered it, but when they learn that PGRs can be used for things like suppressing allergenic blooms, they want to know more. Our biggest increase has been in that niche, and with the more frequent warm winters promoting a longer season (for fruiting and blooming), we're going to see an even bigger demand for PGRs that can be used for this."
Taking care of business
On the surface, PGRs may seem to be a conflict of interest for landscapers who often negotiate payment on a per-visit business model, have monthly or yearly contracts and want to maintain a certain amount of visibility so clients don't doubt they are getting premium service for their money.
There is a place for PGRs even in these scenarios, according to Chen, who says she believes PGRs are substantially underutilized by landscape contractors in the residential market.
"I've heard this concern in theory, but all of the landscapers I have talked to would rather prune less and have time to work on something else," Chen says.
"Trimming less, but maintaining the more visual aspect by adding other services, is a great way to implement PGRs in your business," Goodrich says. "You can reduce labor costs or reallocate labor, depending on your needs. They afford you the time to do what needs to be done without straining labor availability and budgets."
Ornamental options
Just how much time and effort can you save by using PGRs on ornamentals? Depending on the product you use and the target species, you could be looking at six to eight weeks of growth regulation. For ornamentals to hold their shape, it would be up to 12 weeks, according to Goodrich. With some species, it can be even longer.
"When used correctly, you will see a lot of control, but it does vary between species and your region," says Goodrich, who lives in Kansas City. "Here in the Midwest, ginkgo biloba is controlled all season, but in California, the control isn't as long because there, it produces flowers all year long."
In this scenario, season-long control looks like this: If a landscaper typically pulls nine (55-gallon) bags of debris off that ginkgo biloba in a season, introducing PGRs would cut it down to half of a bag.
"You may not experience 100-percent control, but you've greatly reduced what's coming off the tree, and we consider that a success," Goodrich says.
In addition to fruit and bloom elimination and reduction in the growth of trees, ornamentals, shrubs and ground covers, PGRs have proven to offer other benefits, as well. The active ingredient dikegulac-sodium (Atrimmec) suppresses shoot elongation in plants but promotes lateral branching, which can help give shrubs and groundcovers a fuller, more uniform shape.
There is also research to suggest PGRs can help plants weather a drought, Chen says.
"Previous research suggests several GA3-inhibiting PGRs improve the drought tolerance of treated plants," Chen says. "This is an important potential benefit of Type II growth regulators," especially for areas that are prone to drought-like conditions or are subject to water restrictions.