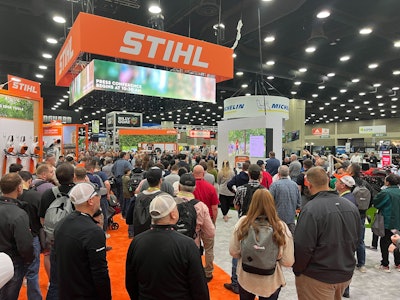 STIHL
Equipment debuts, product announcements, and other news kept the excitement going in Louisville, Kentucky as the Equip Exposition wrapped up its last day. Here is some of the news from the show. We'll continue with further coverage and more detailed equipment reviews in the coming weeks.
STIHL showcases line-up of battery-powered zero-turn mowers, and more
Debuting for the first time, the STIHL RZA 748, STIHL RZA 752 and STIHL RZA 760 battery zero-turn mowers boast all-day run times, industry-leading speeds, and commercial-grade features with quiet and exhaust emissions-free operation – optimal for regulated zones. These mowers provide the power and performance landscape professionals expect from STIHL and stand up to the toughest, all-day jobs.
STIHL also introduced gasoline-powered walk-behind mowers to the U.S. market with four models – RM 655 V, RM 655 VS, RM 655 YS, and RM 756 YC. These models boast many features, including:
An easily adjusted mono-comfort handlebar that offers direct access to the grass catcher and easily folds for convenient transport and storage.
A spring-assisted, single-point height adjustment offers seven cutting height options for the operator to choose from.
A Kohler engine with a cast iron cylinder liner provides powerful performance with durable engineering.
The easy-to-clean polymer grass bag and the clamshell design makes emptying easier.
In addition, STIHL is introducing battery-powered trimmers and pole pruners at the show. Comparable to the gas-powered FS 131, the AP battery-powered FSA 200 trimmer boasts 60 percent more power than the FSA 135. Along with that, the FSA 120 and FSA 120 R trimmers are scaled to match the most demanding requirements, with an optimal power-to-weight ratio of up to 40 minutes of run time.
The company has also introduced the HTA 150, a fixed-length battery pole pruner. Offering optimized stability when pruning, this tool offers a magnesium gearbox and hollow shaft that make the unit lighter than the competition. Its bigger brother, the HTA 160 is the most powerful telescopic battery-powered pole pruner in the STIHL line-up.
Bobcat expands zero-turn mower line-up with ZT5000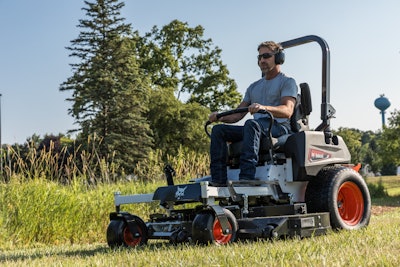 Bobcat Company has expanded its lineup of zero-turn mowers with the launch of the ZT5000, a high-performing, turf-taming machine that's built to tackle challenging mowing tasks with precision and ease.
"Everything about the Bobcat ZT5000 is designed to cover more turf area at productive speeds while leaving behind a high-quality cut," Bobcat senior product manager Ron Scheffler said. "Features throughout the ZT5000 support increased mowing productivity, including the dual fuel tanks, tool-free deck access for quick-and-easy cleaning, and the comfortable operator's station with a high-back suspension seat and ergonomic controls."
ECHO showcases 21 new products
ECHO Incorporated showcased its 21 new products at Equip Expo, which we previously covered here.
The new lineup includes a full range of eFORCE 56V battery-powered handheld products, including Series 56V tools, along with a new battery and two new chargers offering increased run time and expanded charging options for the professional landscape. The company has also improved upon its robotics technology.
"We've started trends, like inventing the first backpack and handheld gas blowers, and we've witnessed emerging trends, such as the current industry shift towards increased use of battery-powered tools.ECHO continues to innovate and adapt to better serve our professionals. We're pleased to be launching the expanded range of XSeries 56V best-in-class products, now offering landscapers a commercial-grade battery option within every product category's portfolio," said Wayne Thomsen, VP of Marketing and Product Management, ECHO Inc.
Honda showcases its Autonomous Work Mower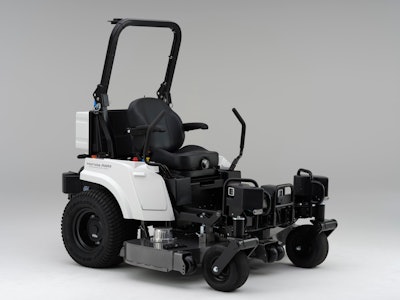 Honda showcased its prototype Honda Autonomous Work Mower (AWM), the company's first all-electric zero-turn riding (ZTR) mower aimed at boosting worksite efficiencies for lawn care and landscape maintenance companies through autonomous solutions. The prototype Honda AWM combines cutting performance and high location accuracy with obstacle detection, offering an eco-friendly solution with zero emissions.
Watch a demonstration of the Honda AWM at https://honda.us/AutonomousWorkMower.
Senix introduces its X6 cordless outdoor product line
Senix has announced more than 20 products that will be available for Spring 2024. These included a 60V 21-inch push mower, 60V 21-inch SP mower, 60V 42-inch ZTR mower, and a 60V 54-inch ZTR mower.
The announcement also included blowers, trimmers, chainsaws, a snow blower, a snow shovel, and batteries.
Oregon Tool launches more than 700 SKUs at Equip
As part of the company's ongoing commitment to support distributors and dealers in the outdoor power equipment industry, Oregon Tool, Inc. is adding over 700 SKUs to its already broad portfolio of lawn and garden and forestry parts.
The additional SKUs, available starting this year and into the first quarter of 2024, will result in an 85 percent increase in Oregon Tool, Inc.'s belt assortment, with notable increases in blades, tires and tubes and other maintenance and repair parts.
These new SKUs, along with a deep assortment of other forestry and lawn and garden parts, are available to dealers through their designated Oregon distributor.
"As the outdoor power equipment industry continues to evolve and new product applications and technologies are introduced to the market, we have an obligation to ensure our product portfolio is reflective of industry trends, geographic nuances, customer needs, and end-user expectations. We are making investments that will enable our customers to drive future growth", stated Jason Landmark, president, Forestry and Lawn & Garden for Oregon.
Yanmar showcases SM Series tractor
Yanmar America showcased its SM Series attractor at the show this week. THe SM240 tractor draws inspiration from Yanmar's durable engines, ensuring reliability with every task.
The SM240 boasts a host of convenient features from a foldable ROPS for added safety to a joystick-operated front-end loader for enhanced land-working experiences. Advanced technology ensures precise control and stable movement while the ergonomic operator station sets a new standard in comfort.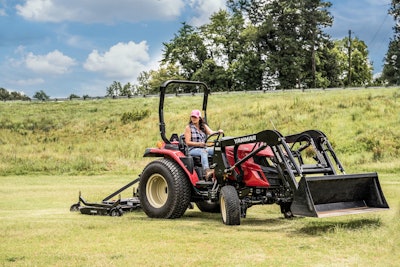 Michelin partners with Ferris Mowers with new zero-turn mower fitment
The new Michelin X TWEEL Turf 26-inch tire can now be used on Erris Mowers' new ISX 3300 model. The new Michelin X TWEEL Turf tire in size 26x12N12 XL with a 5on4.5" OCD and -2.2-inch offset can be used to replace the standard 26x12x12 tire on an existing mower.
Michelin's airless TWEEL tires eliminate downtime due to flats and unseated beads, and they help maintain a level deck without the need to adjust air pressure.