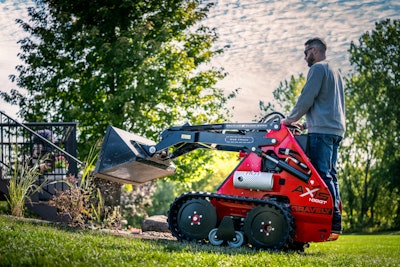 AriensCo
AriensCo showcased a new gasoline-powered compact utility loader series and a high-slope brush mower at Equip Exposition in Louisville, Kentucky last week. These new products help expand the company's commercial line.
New compact utility loader series
Gravely's new AXIS 100 series of gasoline-powered compact utility loaders gives a low-barrier-of-entry opportunity to landscape contractors and lawn maintenance professionals ready to grow their businesses. The AXIS 100GT and AXIS 100GW, which represent track and wheel-drive models, feature many of the same unique-to-market features as their diesel-powered counterparts.
"In years of drought or reduced business, the Gravely AXIS 100 gives more professionals a cost-friendly solution to expand their range of services," said AriensCo director of commercial product, Grant Wilson. "With a universal attachment mounting plate that supports interchangeable attachments, the AXIS 100 is a Swiss Army Knife. It scoops, lifts and transports supplies and material, digs, trenches, and opens multiple new revenue streams without adding labor."
Though the 23.5-horsepower KOHLER Command PRO CH730 engine is a clear difference from the AXIS 200 series, favorites from the diesel-powered lineup are carried into the AXIS 100. That includes a self-leveling boom/bucket, universal attachment plate, adjustable hydraulics to supply power where needed, track and wheel options, two auxiliary hydraulic ports to drive motor- and cylinder-driven attachments, and a common controls layout.
The compact size and lightweight footprint of the AXIS 100 is also a welcome characteristic for smaller companies. At 40-inches wide and 60.5-inches long (without attachment), both track and wheel models can fit on most open and enclosed trailers, preventing the need for additional investments in new transportation vehicles. This also means better access to more work areas without leaving damage that can be left behind by large skid steers. Weighing only 2,189 pounds, the AXIS 100GT track model floats over work areas with minimal impact to manicured turf.
New high-slope brush mower
Tackling hilly and mountainous landscapes by remote control, the OVIS, a high-slope brush mower, expands Gravely's lineup of commercial outdoor power equipment. The new Gravely OVIS uses a 40-inch-wide flail mower to clear vegetation on steep or inaccessible terrain where traditional lawn mower operation is either impossible or unsafe. Though new to the American market, this product is currently built by AriensCo's AS-Motor brand in Germany and distributed across Europe.
"Adding OVIS to the Gravely lineup fills a gap in the U.S. market to support work adjacent to traditional jobsites on difficult landscapes, such as those in hilly and mountainous regions," said Wilson. "We're giving landscapers a product to knock down large brush on steep highway viaducts, clear unkempt hiking trails and embankments, and mow in less accessible areas like solar farms. It also allows that work to be done more safely and with greater ease."
Scaling challenging terrain with the OVIS is possible through remote-controlled operation, a very low center of gravity, and a track-drive system. With no in-cockpit operator, OVIS can safely climb slopes up to 50 degrees, and it has a control range of up to 1000 feet without "frequency confusion" when operating as part of a fleet with other machines. The machine's low stature reduces the possibility for tipping and allows it to operate in low clearances.
Additionally, a 23-horsepower Briggs & Stratton Vanguard engine supplies ample power for OVIS' flail-head mower to chew through saplings up to 1.5 inches in diameter.
The OVIS will continue to be manufactured by AriensCo in Bühlertann, Germany, and will be sold at independently owned and operated Gravely dealers in the U.S. starting in spring 2024. More information on OVIS will be available soon on Gravely.com.