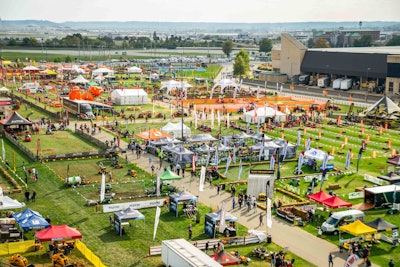 Allie Filley
With more than a million square feet of exhibits and 30 acres outside, Equip Exposition once again broke records in attendance and exhibit space sales. The award-winning trade show expanded its usual footprint at the Kentucky Exposition Center to add the West Wing this year due to space demands. The trade show for the international landscape, outdoor living, and outdoor power equipment industry takes place every October and brings more than $21 million to Louisville.
"The 2023 show was our largest to date—in attendance, in booth sales, sponsorships, and in education sessions," says Kris Kiser, President & CEO of the Outdoor Power Equipment Institute (OPEI), which owns Equip Exposition. "It shows you how much companies and manufacturers want to be part of Equip Exposition and showcase their products to landscapers, dealers, and the entire industry. It is THE place to be every October if you're in this business."
With co-location partner Hardscape North America, Equip Expo fully occupied the North, East, and South halls of the KEC with newly added square footage in the West Wing.
Kiser adds, "We've now grown to fill all of the halls and have added a big part of the West Wing to our footprint. Not to mention, we have maxed out on outdoor demo space, which is one of our most popular features. It's the only show in the industry where you can dig, cut, mow, mulch, and test equipment before buying. This year we also added select workshops in Spanish, a women's reception, and an expanded UTV track outside."
This year's Equip Expo brought together more than 27,000 registered attendees from all 50 states and 46 countries. Landscape contractor registrations increased by 20 percent over last year, and dealers were up 5 percent.
Plans for 2024 are well underway, including a Welcome Reception at Churchill Downs, which will celebrate the 150th anniversary of the Kentucky Derby in May 2024 with upgrades to the racetrack, as well as another arena concert at the Yum! Center in downtown Louisville.
"Building on the success of this year's show, we continue to incorporate new experiences for 2024. We're currently looking for talent for another Yum! Center concert and building out the slate of speakers for our education series," Kiser says. "Every year, Equip Exposition invests in and commits to making the user experience unique in response to the industry's needs, demands, and market changes. So while it will be the same show you've always loved—it will just get better."
Registration for the 2024 show is now open. Admittance to the 2024 Equip Exposition is currently at the early bird price of $25 per person. Register here.
For more information visit equipexposition.com, contact the Equip Exposition office at [email protected], or call 502-536-7050.