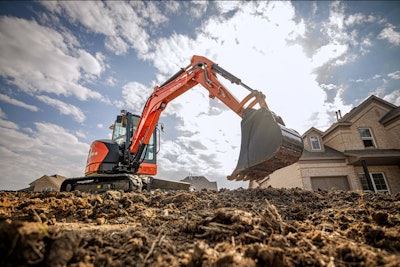 Photo: Kubota
Kubota Tractor Corporation recently announced two new compact excavators and a new hydraulic quick coupler available at dealerships this quarter and plans for another excavator this summer.
Kubota says the introduction of the new KX057-5 and the U55-5 lead the company's construction equipment product introductions in 2021, and both models offer various upgrades from their previous (-4) units.
The company says it also launched a new quick coupler for its 3-4 ton excavator class. The nKX057-5, U55-5 and quick coupler will be available at Kubota dealerships starting March 2021.
"With the new KX057-5 and the U55-5, Kubota offers not only a broad selection of 13 compact excavator models, but also complete flexibility with conventional and reduced tail swing offerings in the 1-to-6-ton weight classes," says Patrick Baker, Kubota Construction Equipment product manager. "And this year, all -5 generation models are outfitted with standard technology and comfort packages, plus more tech options for ultimate customization. Our new excavator models are built on the solid engineering our customers expect, and now feature more technology, much quieter cabs and many comfort features – we are truly taking care of our operators with these new units."

The company says the KX057-5 replaces the KX057-4 in Kubota's K Series of compact excavators and offers improved technology and ample cabin space. Kubota says the KX057-5 is available in canopy or cab models, boasts 47.6 gross horsepower, a working range that includes a digging depth of 12 feet 9 inches and a bucket breakout force of 10,172 pounds.

The company says technology features include a full-color seven-inch LCD screen that provides all the information the operator needs to know with a quick glance. Kubota says an optional keyless start is available for the first time on Kubota's excavators. The engine can be started with a four-digit code, and up to 10 user passwords can be set.

Engineered to meet the needs of contractors working in tight spaces, the company says the U55-5 has a reduced tail swing to maneuver in any size jobsite. The company says the U55-5 is ideal for a wide range of jobs with ample cabin space and state-of-the-art technology.

Kubota says the U55-5 is available in canopy or cab models, has 47.6 horsepower, a working range that includes a digging depth of 11 feet 11 inches and a max dump height of 13 feet 2 inches.
The company says a redesigned cabin features a double adjustable seat and greater head and foot space, and the newly designed cab was designed to reduce noise and help protect the operator's ears.
Kubota says the floor plate is also thicker to reduce noise, the metal sash bars overhead were removed and a felt ceiling was installed to reduce noise and vibration. The company says the cab pillars are thinner, further reducing vibration and noise, and a large full-color LCD screen provides all operational information.
Other upgrades on the U55-5 include optional rear-view camera and keyless start, with 10 user passwords for customized control. Also new for 2021, Kubota says it offers a hydraulic quick coupler for its entire 3-4 ton class of excavators including the KX033, U35 and KX040.

The company says the new quick coupler allows operators to change buckets from the comfort of the operator seat, in a matter only 10-15 seconds. Kubota says the coupler includes custom control packages for a perfect fit on each excavator model, including specialized hose kits as well as a spring-applied hydraulic release locking mechanism.

The company says the new quick coupler is construction grade, compatible with older-style buckets and engineered for everyday use on the jobsite.
Turfo showcases new T5000 spreader/sprayer

Turfco recently announced the arrival if its new T5000 spreader/sprayer high-capacity riding applicator.
The company says the T5000 is built for larger properties, with its 60-gallon sprayer and 325-pound spreader capacity coupled with a 22-hp engine delivering speeds up to 7 mph.
The company says the steering wheel drive system provides stability on hills, eliminates turf-tearing and reduces training time to save business owners thousands of dollars per year, as new operators can be trained and fully operational in less than a week.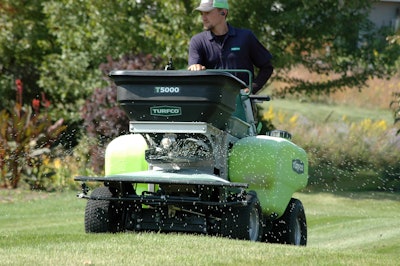 "Mecalac excavators represent a new approach to existing equipment — a 360-degree compact excavator," says Peter Bigwood, general manager for Mecalac North America. "Thanks in part to an innovative boom design, our MCR and MWR machines open faster and close up tighter than anything out there, providing more power, speed and dexterity for the tightest worksites. But innovation never stops. Our engineers found a way to further specialize our existing technology for certain applications."

The company says the new option is a variation of the Mecalac boom optimized for excavation and truck loading applications. Mecalac says this alternative boom configuration positions the stick cylinder above the boom, rather than underneath, to provide a wider working angle, faster movement and higher penetration force while maintaining the features of the original Mecalac boom.

The company says dimensions and work envelope remain similar to the standard boom, and attachments, such as loader buckets and pallet forks, are still compatible.

The company says the Mecalac boom is now the standard configuration for 6MCR and 7MWR excavators, and the original boom design will remain standard for all other models in the MCR skid excavator and MWR wheeled excavator series.
Unlike traditional mono booms, Mecalac says its design features five axes for an unrivaled range of motion, providing a more compact footprint and minimizing the need to reposition the machine in a number of situations. The company says the boom can be tucked in close to the machine, even with a full bucket, allowing for extra compactness and mobility without overbalancing the unit in the front — resulting in a true zero-turn radius.
For loading trucks, working in confined spaces or operating near the body of the machine, the company says the boom's extended range of movement increases flexibility and reach while minimizing unnecessary movement. Mecalac says this dexterity also increases overall efficiency with a number of attachments.
The company says the boom is offset to the side of the cab, which allows the operator to angle the first part of the boom back to increase stability during lifting — resulting in the highest lifting force in its class — and reduces the machine's overall footprint for work in confined areas.
Mecalac says an additional offset in the second segment of the boom lets contractors dig outside the machine's width as well as work parallel to the machine over longitudinal obstacles, such as fences.
"From the start, Mecalac's boom design changed the game for excavator operators, increasing lifting capacity to industry-leading levels and allowing them to work closer to the machine than ever before," says Bigwood. "But we recognize that contractors take different paths to achieve success. To help maximize the benefits of our MCR and MWR machines for every customer, we offer a boom optimized for excavation and truck loading applications."
John Deere rolls out performance tiering strategy
Developed in response to evolving customer needs and expectations, John Deere announced the launch of its performance tiering strategy, delivering a range of products at different levels of capability and user experience.
Available first on the wheel loader lineup, the company says the performance tiering strategy supports customers by providing machine solutions built for various applications and jobs to enhance profitability and efficiency. Moving away from the traditional series letter designations, John Deere says the performance tiering strategy provides three tiers of machines — G tier, P tier and X tier.
"Every job site is unique, and customers want machine solutions that can be personalized to meet their diverse needs, including performance, price and comfort," says Jason Daly, global director, production systems, technology and marketing, John Deere. "By offering three tiers, customers can move up or down the spectrum to find the right mix of features, performance and innovation for their business and application."
The performance tiers are:

The X-tier models are built with John Deere technology and features, delivering the highest levels of productivity, efficiency and customer experience.

John Deere says P-tier models can be counted on to produce at high levels, day in and day out, and advanced features deliver exceptional performance, efficiency, comfort and service life in demanding, high-production applications.

The G-tier models are practically equipped and economical, providing proven capabilities with the reliability and ruggedness expected from John Deere.

Photo: John Deere
The company says the 444-724 P-tier machines reflect the performance capabilities and features that most customers expect from John Deere, such as a redesigned cab, standard parallel lift Z-Bar loader linkage, high-lift plus option, electrohydraulic controls and dual return-to-dig settings.
The company says the 644 X-tier features E-Drive technology comprises a diesel-electric drivetrain and exemplifies the type of innovative features that distinguish the X tier.
The company says the 644 G-tier is the first model to be available in the lineup of G-tier wheel loaders. Leveraging proven components and technologies, John Deere says the 644 G-tier is equipped with an all-new cab designed to boost operator comfort and productivity.
The company says customers can customize the machine through a variety of base-level packages, including axles, tires, ride control, seats, radio and rear chassis work-light selections. With the 644 G-tier machine, John Deere says it delivers a solution ideal for light to medium construction jobs, such as stockpiling, short load-and-carry, truck and hopper loading and material handling.
Designed and manufactured by John Deere, the company says all tiered machines are backed by John Deere Connected Support and a five-year subscription to JDLink.
The company says customers can distinguish the different levels of tiering by not only the attributes and capabilities, but also by the distinct branding and design cues on the machines.