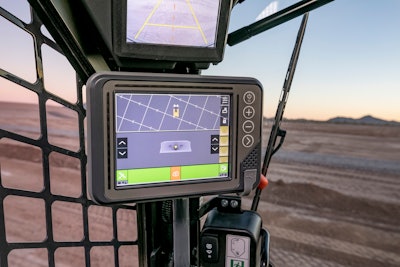 John Deere
Landscapers will be able to take on larger jobs that require precision grading with John Deere's new 333G compact track loader with SmartGrade, now in production.
Deere says its 333G SmartGrade's offering is the first time a fully integrated grade control technology is available in compact equipment. In fact, Deere claims it "levels the playing field with contractors running larger fleets."
"SmartGrade enables stakeless grading, meaning a job can be worked on 24/7 if needed, leveraging the same plans used on other jobsite equipment as well," says Luke Gribble, solutions marketing manager with Deere speaking during a recent press event.
"It also helps prepare sites for final grade with the same machine and operator, placing material without delays or additional crew members or equipment. There's no masts, no cables, just precise grading performance," Gribble adds.
SmartGrade increases productivity by helping operators complete grading tasks faster with fewer passes and less rework compared to working without grade control technology. The grade control system is fully integrated into the 333G's structures and software and does not use masts and cables.
The 333G also comes with DozerMode, which enables the EH joystick control system to function like a crawler dozer. Deere says this is beneficial when operating its six-way dozer blade attachment, which can both cut a grade and spread materials and accurately and automatically cut or finish light materials in tight spaces.
The dozer blade does not require tools to change between it and other attachments.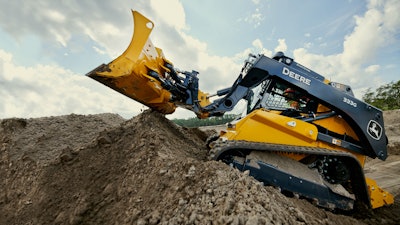 The 333G is Deere's largest CTL. The 12,100-pound machine features a vertical-lift design, a 100-horsepower engine and a rated operating capacity of 3,700 pounds.
"In addition to the great smart grade features the 333 G comes with all the same benefits of a typical compact track loader, specifically with its ease of transport from jobsite to jobsite and versatility," says Gribble. "This machine retains its same vertical lift configuration, making it capable of lifting heavy loads, dumping material to dump trucks, stacking pallets or tackling any number of other tasks, when it's not needed for grading."
Deere says integrating SmartGrade technology into the 333G gives its customers a solution that is transportable, can fit into tighter spaces and will ultimately reduce labor costs.