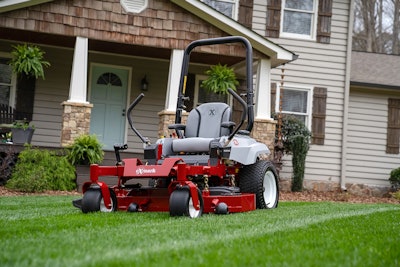 Exmark
The expansion of the 2021 Exmark zero-turn riding mower with a new Radius E-Series machine featuring a twin-blade 48-inch UltraCut Series 3 cutting deck is expected to improve the quality of the work performed by landscape contractors. It will also boost efficiency with easier cleanup after the mowing work is complete, says the company.
"When we launched the Radius line, we were focused on service access and maintenance, simple operation, and operator comfort and ergonomics," says Mike Mayfield, Exmark product manager. "We were able to maintain all of those benefits while now also improving the quality of the cut with this new addition."
Mayfield explains that the cutting benefits are achieved by having longer blades. Instead of having three shorter blades, the twin-blade cutting system increases the cutting chamber volume by 50-percent. With more volume in the cutting chambers, more material can be moved, and the deck can operate more efficiently.
"We're seeing reduced deck packing which means less clean-out," Mayfield adds. "Grass clippings are also not being thrown back on the operator. And with the longer blades, it spins at a lower rpm while maintaining the same blade speed—so that's less wear and tear on the blade bearing."
All of this equates to improved discharge and better mulching or bagging performance—as well as a piece of equipment that is going to be able to continue to perform optimally over time. The construction of the mower has also been key in its durability, Exmark says.
Built to last
Landscape contractors are looking for equipment that is built to last. The new UltraCut Series 3 twin-blade cutting deck is fabricated and welded from 7- and 10-gauge high-strength alloy steel. Heavy-duty Series 4 cutting spindle assemblies feature sealed bearings for maximum durability with reduced maintenance requirements.
The Radius frame is built from 2-inch by 3-inch steel frame tubes welded into a unibody structure. The frame locates major components—the engine, hydro drive system, and fuel tank—lower in the frame, for increased stability, maneuverability, and hillside traction.
The new Radius E-series machine is powered by a Kawasaki FR691V air-cooled twin-cylinder engine, featuring pressurized lubrication and cast-iron cylinder liners. Exmark's hydro drive system uses dual Hydro-Gear hydros to deliver zero-turn precision and highly variable ground speeds of up to 8.0 mph forward and 5.0 mph reverse.
According to Mayfield, the Radius line is targeted to entry-level landscapers or high-end residential homeowners.
Mayfield sums it up: "All around this is a performance improvement and will benefit landscape contractors by helping them do their jobs more efficiently with better results."