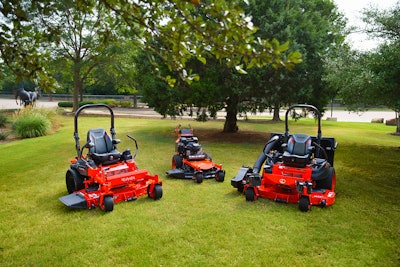 Kubota
Kubota unveiled its new line of Hydro Walk-Behind Mowers and new product enhancements within two of its powerful zero-turn lines at GIE + Expo last week. The goal of these new products and enhancements is to reduce costs and maximize time for busy landscape contractors.
Power grass catcher makes Kubota's zero-turns more productive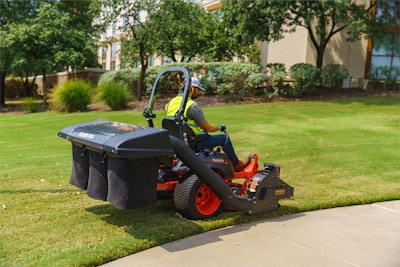 The all-new Power Grass Catcher for the Z400 Series 54- and 60-inch steel-welded mower deck zero-turn models is engineered for landscapers who demand durability and top performance at a faster speed to reduce time on the job. With its all-steel blower construction and 10-bushel carrying capacity, the Power Grass Catcher leaves no debris behind as it easily takes on top-level mowing performance even with the most challenging mowing tasks.
Early in 2021, Kubota announced the introduction of two new models to the Z400 Series: the Z412KW-48, Z422KW-54, and Z422KWT-60. The newest models come standard with 6.5-inch-wide front caster tires and a deluxe adjustable suspension seat with 3 inches of travel designed to maximize operator comfort.
Delivering the same performance, durability, and class-leading traveling speed customers expect from the Z400 Series is made possible thanks to an exclusive Hydro-Gear ZT-3600 transmission, 24-inch low profile rear tires, and 22-24 horsepower Kawasaki engines. The series features durable 48-, 54- or 60-inch decks, providing superior cut quality for a variety of property sizes across different turf and terrain.
Tweel Tires help to prevent downtime from flats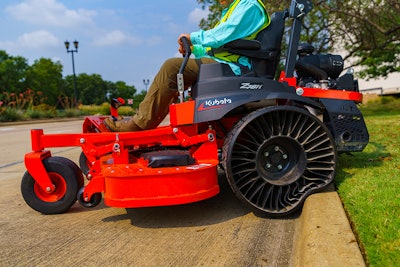 Next, Kubota builds on the exceptional performance of its popular Z700 Series by introducing Tweel Tires to its Z781 zero-turn mower, powered by Kawasaki FX EFI engines, for both the 54- and 60-inch model decks. The Michelin XTweel Turf airless radial tire is designed to eliminate service time caused by flat tires and unseated beads. The spokes offer excellent lateral stability on hillsides, sloped surfaces, and even when traveling over curbs and bumps.
Introducing new Hydro walk-behind mower with improved ergonomics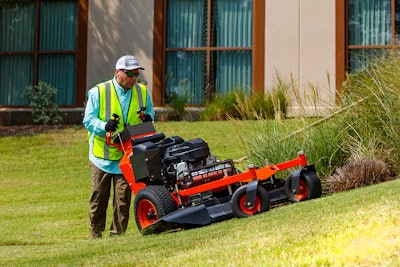 Finally, with new ergonomic controls, a new floating deck design, and larger tires, the new W Series Hydro Walk-Behind Mowers offer three new models – the WHF14NC-36-2, WHF15NC-48-2, and WHF19NC-52-2 – and each is built to out-perform when cutting, mulching, and bagging.
The new W Series models are perfectly tuned to optimize power and cutting width so that mower speed and horsepower increase with each deck size option, across the 36-, 48- or 56-inch decks. Take on properties up to 3 acres with a resilient five-hour run time and increase your performance with these newly improved, great durability mowers.