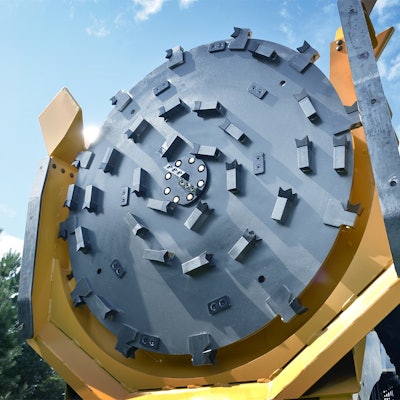 Diamond Mowers
Whether for land clearing, site preparation, forestry management, or disaster cleanup, mulching provides numerous benefits to ranchers, landowners, and landscape contractors. It not only tames overgrowth, but also improves soil quality, conserves moisture, and helps to thwart weeds and other vegetation.
When it comes to clearing and processing unwanted trees and brush, a disc mulcher is a top choice. An essential tool for cutting, shredding, and mulching, this powerful and versatile attachment can be a key ally in maintaining and elevating property health. However, it's important to understand the intended applications and what to consider when selecting the right size and options for your carrier and the task at hand.
Applications
Disc mulchers are designed for numerous applications. Below are just a few of the ways this multifaceted attachment can be used.
Tree Removal
If your business involves trimming and/or taking down trees, a disc mulcher is ideal for pulling whole trees into its deck for quick clearing and high productivity.
Preventing Overgrowth
Preventing overgrowth may seem like a tall task, but a disc mulcher can help lighten the load. Able to continuously process trees and heavy brush up to 6" in diameter, Diamond Mowers' high-performance attachment produces mulch that promotes the growth of native vegetation and naturally prevents invasive species from regrowing.
Storm & Disaster Cleanup
When Mother Nature calls, a disc mulcher answers. Fixed steel teeth on the inside of the deck shell act like an axe to slice through broken branches and trees, while its aggressive design allows operators to grab, pull in, and process material, making storm and disaster cleanup a breeze.
Features and benefits
As you look for the mulcher that is right for you, consider the features and benefits.
Mulching Disc Design
As its name suggests, a disc mulcher looks like a large disc equipped with mulching teeth to cut and mulch trees. Engineered to act like a flywheel, the distinctive disc design stores energy and combines it with hydraulic power to enable operators to slice and process trees and brush in their path. By adjusting the disc's angle, operators can cut and mulch with different techniques, such as "cut and feed" or "vertical mulch."
Cutting Width and Capacity
Attachment size will primarily depend on land configuration. Generally speaking, the larger the cutting width, the faster the attachment can process. However, a smaller attachment is better suited for smaller machines. Diamond Mowers offers disc mulchers in two sizes – a 48" unit optimal for smaller skid-steers operating in compact spaces, and a 60" unit ideal for tackling projects in open, rural areas where there's a need to clear large areas quickly. No matter the cutting width, both machines can slice through trees and brush up to 14" in diameter and shred material up to 6" in diameter into a fine mulch.
Hydraulic Motor Options
Power and productivity go hand-in-hand, and torque is one of the biggest contributors to overall performance. As a function of hydraulic motor displacement and the skid-steer's available pressure, more pressure results in increased torque, which means quicker run-ups, faster recovery, fewer plugs, and higher overall productivity. Diamond Mowers' Forestry Disc Mulcher is available with three motor options, including a gear motor and two piston motors offering faster disc speeds and higher productivity to perfectly match your loader.
Standard- vs. High-Flow Hydraulic Configurations
If you've bought skid-steer attachments before, you already know how crucial it is for an attachment to meet the hydraulic configuration of your loader. A high-flow skid-steer loader commands more powerful attachments than a standard-flow carrier. Diamond's 48" Disc Mulcher is compatible with both standard- and high-flow hydraulic machines – and with most skid-steer brands.
Mulching Teeth
The teeth you choose for your disc mulcher will depend on your carrier, application, and terrain. Some are specifically designed for high-production environments with limited ground contact, while others are intended for use on rocky terrain with added strength to withstand abrasion and extreme ground contact. Talk with your equipment dealer about which option(s) might be best for your machine and job.
Maintenance & Parts
As with all types of equipment, it's important to follow the manufacturer's recommended guidelines related to maintenance requirements and service intervals. Examine your disc mulcher's cutting teeth daily and replace any damaged components because failure to do so can cause additional deterioration to tooth holders. It's also ideal for an operator to keep extra teeth and components on hand to prevent costly downtime. These supplemental offerings make replacing teeth a breeze and guarantee maximum productivity from your disc mulcher with every use.