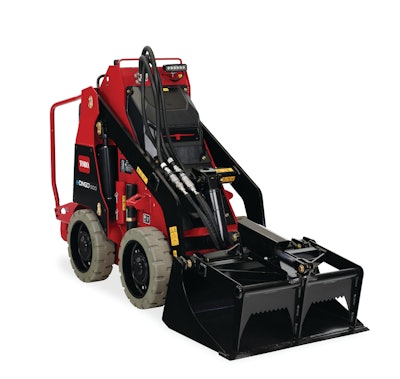 Toro
Toro recently debuted its next-generation electric stand-on eDingo 500 compact utility loader at World of Concrete.
Also known as a mini skid steer, the new eDingo 500 comes with a more powerful 13.5-kilowatt-hour HyperCell Power System for "all-day runtimes and quick charging," Toro says. It also comes with a new onboard charger. Charging it overnight by plugging it into a wall outlet will yield eight hours of continuous runtime, according to San Dando, Toro product marketing manager.
The electric motor is designed to be quiet and reduce vibrations, Dando said. "It is one of the smoothest and easiest-to-control Dingos in the market."
Toro introduced its first electric eDingo 500 in 2020 as its first lithium-ion battery-powered compact utility loader, and the new version incorporates lessons learned from the groundbreaking CUL, Dando said.
The new eDingo is narrower. At 30 inches wide it can fit through doorways. It also has a higher hinge pin height of 81 inches, enabling it to dump into standard Dumpsters.
Toro has geared the compact loader for indoor construction and demolition work, where emissions are an issue. It can replace manual heavy or continuous operations.
As an example, the eDingo 500 demonstrated at the company's booth at World of Concrete was equipped with a floor scraper attachment and was used to remove tile. See the demonstration in the video below:
The eDingo 500 can run other Toro attachments, such as a hydraulic breaker, various buckets, adjustable forks, a grapple, leveler and mixer bowl.
Other features on the CUL include a 1,200-lumen work light; and charging cord compartment storage.
Toro says the eDingo can also maneuver in tight spaces with zero-turn. It can travel up to 2.7 mph.
The eDingo delivers 6.5 gallons per minute of hydraulic flow and has a rated operating capacity of 515 pounds.