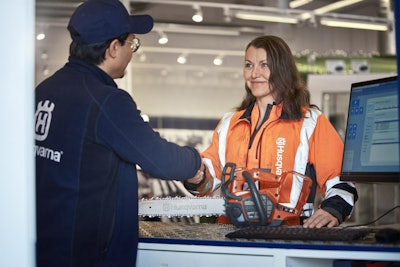 Husqvarna Group
Husqvarna Group has launched a comprehensive two-year warranty program designed to provide extended protection for equipment used by commercial green space and tree care professionals. The two-year warranty is a significant benefit for professional chainsaw customers. Additionally, for commercial zero-turn mowers and stand-on mowers, the first two years of ownership will be covered under warranty with no hour limitations on usage. Customers can immediately take advantage of this program and benefit from two full years of warranty coverage for Husqvarna 300 and 500 series professional handheld* and wheeled products.
"Husqvarna's revamped warranty program is another demonstration of our commitment to our commercial customers," said Carlos Haddad, Vice President of North America, Professional Products at Husqvarna Group. "Green space and tree care professionals can continue to count on an exceptional level of coverage for tools being used as designed and can rest assured that their vital equipment is protected."
Professional Husqvarna products covered under the warranty program include:
· 300/500 Series Handheld**
· Pro Batteries (BLi100-Bli950x)
· Pro Split Boom Attachments
· W500 Walk-behind Mowers
· Z400 Zero-Turn Mowers
· V500/Z500/P500D Stand on, Zero Turn and Articulating Riders
Husqvarna's warranty services cover defects in machinery or workmanship that may occur under normal use during the Warranty Period. During this Warranty Period, Husqvarna will repair or replace any defective product or part because of a defect in material or workmanship, under normal use and maintenance, at no cost to the owner.
Visit any Husqvarna dealer or navigate here to learn more about Husqvarna's warranty program, find out whether your purchase qualifies, and how to activate the warranty service. Husqvarna's new warranty program is available for customers in North America.
*The warranty length for professional handheld power cutters (a.k.a. cut off saws) is one year as defined by Husqvarna Construction Division.
**Excludes Husqvarna 330 series trimmers.