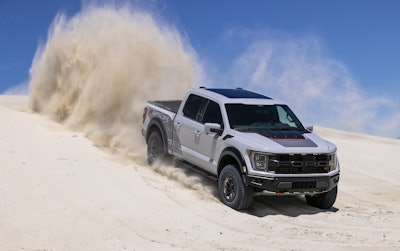 Ford
The next best thing to hearing Ford's supercharged 5.2-liter V8 in person is of course listening to the 700-hp beast roar to redline in a video.
Thanks to Hennessey Performance in Sealy, Texas we can get an earful of the 2023 Raptor R on their dyno as it revs up to 6,600 rpm just shy of redlining. Ford's V8-equipped Raptor R is an answer to those complaining about the less powerful (450 hp) and less aggressive-sounding V6. It's also a response to Ram's TRX that's equipped with a slightly more powerful 702-hp 6.2-liter V8 that's also on the heavier side.
In a video released this week on their YouTube channel (see below), Hennessey reported getting 562 horsepower and 566 lb.-ft. torque at the rear wheels. Ford's ratings of 700 horsepower and 640 lb.-ft. torque for their most powerful Raptor yet are at the crankshaft.
Frictional losses owed to the transmission, driveshaft, axles, wheel size and tire type add up. In this case, there's a 20% loss at the wheels which is not bad considering that dyno manufacturer Dynojet points out that there's a 25% loss on average.
If those numbers aren't high enough for you, turn to Hennessey's VelociRaptoR 1000 package which is advertised to boost power by more than 40% which "would make the adept off-road pick-up one of the quickest and most powerful in the world."
To get there, Hennessey will swap out the Raptor R's stock 2.65-liter supercharger with a larger 3.8-liter blower complemented with high-flow induction, larger fuel injectors, upgraded fuel lines, and a new supercharger belt.
You'll also get larger Hennessey wheels wrapped by 37-inch offroad tires, more aggressive bumpers, LED auxiliary lighting and a 2-year/24,000-mile warranty.
Of course, Ford F-150 Lightning fans know only too well about the all-electric truck's sub 4-second zero to 60mph time. Tweaking that high-voltage tire burner to crank out even more power will turn even more heads and put more internal combustion models on notice.
While Hennessey's dyno video on the 2023 Raptor R racked up an impressive 8,200 videos in one day, any video they post showing a Lightning going up against one of their modded beasts will undoubtedly do even better.
As it stands, the stock 2023 Raptor R will please plenty of fans in the growing supertruck crowd. The truck features FOX Live Valve shocks specially tuned to take advantage of the truck's V8 power; standard class-exclusive 37-inch tires and best-in-class ground clearance.
Raptor R gets a power dome on the hood and desert-inspired graphics and a black interior enhanced by genuine carbon fiber streaked with signature Ford Performance Code Orange accents.
"Raptor R is our ultimate Raptor," said Carl Widmann, Ford Performance chief engineer. "When customers experience Raptor R in the desert and beyond, it will make the hairs on the back of their necks stand up – and they'll love every second of it."
One can only imagine how thrill seekers will respond when driving a 1,000-hp VelociRaptoR.