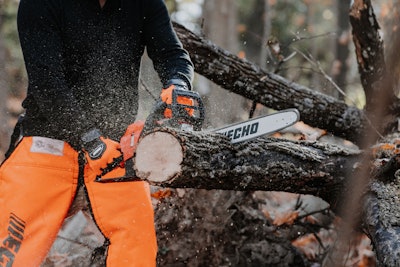 ECHO
ECHO Incorporated, a manufacturer of high-performance outdoor power equipment, has announced the addition of four new gas chainsaws to their lineup. Two of the new chainsaws, the CS-4920 and CS-4010, will replace the CS-4910 and CS-400 and will offer more power and lower emissions. The other two saws, the CS-2511TN and CS-2511PN, have been upgraded to include a new SpeedCut Nano 80TXL cutting system.
"The chainsaw market continues to grow based on consumer demand. From an increased desire to use sustainable material, such as wood for furniture, to deforestation for plant-based products that require more arable land, these saws are being used more now than ever before and ECHO will continue to meet the market needs," said Jerry Morgan, product manager, ECHO.
The ECHO CS-4920 50.2 cc rear handle chainsaw is a lightweight, powerful tool that is ideal for large landowners who fell and buck trees, process firewood, or have storm clean-ups. While it replaces the CS-4910, its stratified 2-stroke engine has lower emissions and features the same powerful performance, now with a common bar mount, added purge bulb, and momentary switch. MSRP is $379.99.
The ECHO CS-4010 41.6 cc rear handle chainsaw replaces the CS-400. The new i-30™ starter reduces starting effort by 30%, it's 0.7 lbs. lighter, and features 13% more power than its predecessor. An ideal saw for homeowners, it can be used for a wide range of applications from cutting firewood to storm cleanup. MSRP is $319.99.
Finally, designed to be the two lightest gas-powered chainsaws in North America, are the CS-2511TN and CS-2511PN. Available in June 2023, these saws feature the new SpeedCut Nano 80TXL cutting system, a smaller chain chassis optimized for saws in the 1- to 3-horsepower range. This system features a .325-inch low-profile chain combined with a .043-inch gauge bar, as well as a system-specific sprocket to deliver increased cutting speed and a smoother cut. MSRP for both starts at $459.99.
All chainsaws come with an industry warranty that includes a two-year commercial warranty and a five-year consumer warranty. For more information, visit www.ECHO-USA.com.