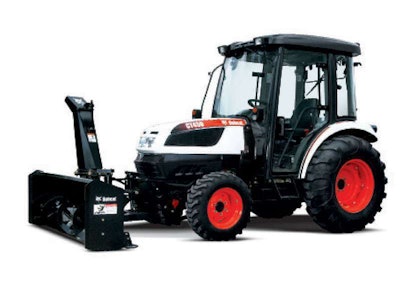 How to protect your investment during colder months
Fall is a critical time to think about winter maintenance for equipment. Whether you use a utility tractor for small-area snow removal or store it for the off-season, it's important to follow a plan. "Usually people just park a tractor and forget about it," says Joe Cassatt, service and warranty manager with McCormick International. "When springtime comes, it won't start. It all boils down to what you did between fall and spring."
1. Check the fuel. Use a conditioner or additive to prevent moisture build-up, condensation, freezing or gelling within the fuel tank. Keep the tank full and replace worn out filters, says Joel Hicks, technical support supervisor for Kioti.
2. Change oil and fluids when necessary. "Pre-winter service of fluids and filters is mandatory because oils can start to break down and loose lubricity," says Scott Baughtman, service manager for Branson Tractors. Oils can also collect contaminates like water molecules that, if frozen, can cause oil to expand and damage seals and valves. Change oil if it looks milky or watery, Cassatt says. Also, make sure your coolant has a freezing point low enough to withstand the lows of your climate.
3. Keep batteries charged. When storing tractors outside, remove the battery and store inside. If the tractor is stored inside, unhook battery cables and use a battery charger to maintain a trickle charge through the winter.
4. Maintain tire pressure. As temperatures drop, air pressures do as well. Check these levels and the general condition of the tire. If you operate in winter and use tire chains, "Make sure sidewalls are good so chains don't fall in bruised places and rupture the tire," Hicks recommends.
5. Don't forget the body. Besides applying a protective coating to painted areas, Baughtman suggests touching up scratched and dented areas so surface rust won't develop and devalue the tractor. "Also check all safety switches and the seat belt after long periods of inactivity," he says.
6. Inspect door and window seals. Once you've made sure your compact tractor will perform at its optimal level in the winter, you'll next want to ensure the operator's comfort features are working properly. To keep operators comfortable and productive, inspect each system and perform routine maintenance as specified in the owner's manual, says Rob Gilles, segment application marketing manager, Bobcat. Inspect the cab's door and window seals to ensure heat won't seep out and install a new windshield blade and anti-freezing washer fluid.
EDITOR'S NOTE: This article was written by Jennifer M. Holloway.