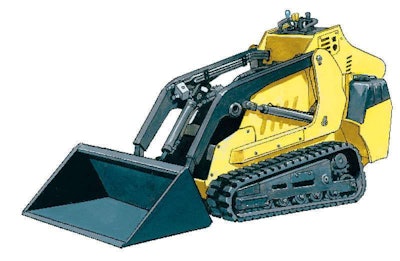 How to compare options and consider present and future needs before buying.
In 2009, there was an industry movement to rename "compact utility loaders" as "compact tool carriers." The rationale for the change is the new name better reflects the versatility of these machines. Yes, they function as loaders. But with an impressive list of optional attachments, they can take on most any equipment task you may need. Take time to match the machine's potential to your current and future needs to make the right buying decision.
Loader performance
No matter what else you use your compact tool carrier for, you'll likely also use it as a loader. Make sure the loader arm geometry and dump height provide the load-out capability you need. Other factors include breakout force and compatibility with a range of bucket types and sizes. Make sure the arms, quick-attachments for buckets and tools and hydraulic hose routing and couplings will work with the attachment you want now or may want in the future.
Hydraulic system
Different functions require different hydraulic system performance characteristics. The main considerations are pressure and flow. Some machines, such as the Boxer 500 series models, offer dual high/low-flow hydraulics. For example, the high-flow side can run the grinding wheel of a stump grinder while the low-flow side simultaneously operates the grinder's sweep function.
Size and weight
Will your compact tool carrier need to fit through a standard 36-inch fence gate? Will you want that same gate-friendly unit to be safe while working on slopes? If so, a model with adjustable track width can provide both a narrow travel width and a wide stance for increased stability on slopes. Will you be able to haul the model you want with the trucks and trailers you currently own? Can you still make the haul when you add buckets and attachments to the trailer? A CDL is generally not required for drivers towing a compact tool carrier on a trailer, but check with the Bureaus of Motor Vehicles for the states in your service area to be sure.
Tracks or wheels
Wheels provide greater travel speed. They offer adequate performance and experience less wear on firm surfaces. Tracks have lower ground pressure and better traction in muddy or loose conditions. Tracks also improve the machine's stability. Maintenance procedures differ. Tires require periodic air pressure adjustments and may succumb to flats; both problems can be averted with semi-pneumatic tires. Tracks may need to be re-tensioned from time to time, and track replacement can be more difficult and expensive than tire replacement.
Ride-on or walk-behind
The few walk-behind units available tend to be smaller, lighter and less expensive than ride-on models. Walk-behinds can be fitted with a sulky to make them ride-on models, but neither the sulky nor walking behind the machine can provide the operator safety, ergonomic fit and distinct visibility advantages provided by a ride-on stand plate built as part of the unit.
A platform keeps the operator out of debris, rocks and mud and away from tripping hazards, such as roots and ruts, while providing greater visibility to the work area and leading edge of the loader bucket or work tool. Platforms are typically spring-mounted to improve the operator's comfort level. The springs can be adjusted or swapped out to accommodate operators of different weights.
EDITOR'S NOTE: This article was written by Richard Ries.