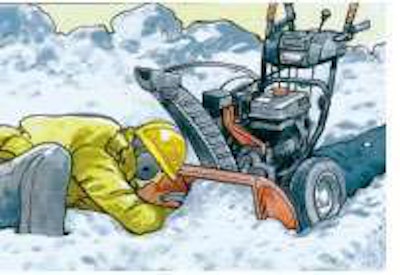 Decrease your injury risk by following this checklist
.
The accident: A landscaping company in the Northern Virginia area decides to expand into snow removal. The first snow of the season is heavy and wet, and the owner sends a three-man crew to clear residential driveways with snow blowers. A 42-year-old worker is operating one of the machines when it becomes clogged. He thinks the unit is off, and sticks his left hand in the auger to clear it. His hand becomes jammed inside and three fingers are amputated. He is transported to the hospital, where doctors are able to re-attach one finger.
The bottom line: More than 5,000 emergency room visits and more than 1,000 finger amputations per year are due to snow blower accidents. Here are tips that can help you avoid injury:
• Read the instruction manual. Prior to using a snow blower, read the manual to learn about specific safety hazards. Reread the manual before attempting to repair or maintain the snow blower.
• Never stick your hands or feet in the blower. If snow becomes impacted, stop the engine and wait at least five seconds. Use a solid object to clear wet snow or debris from the chute. Beware of the recoil of the motor and blades after the machine has been turned off.
• Do not leave the snow blower unattended when it is running. Shut off the engine if you must walk away from the machine.
• Watch the snow blower cord. If you are operating an electric snow blower, be aware of where the power cord is at all times so you do not trip and fall.
• Add fuel before starting the snow blower. Never add fuel when the engine is running or hot. Wait until the engine is cool before refueling. Avoid spillage by using non-spill containers with spouts.
• Protect yourself from carbon-monoxide poisoning. Start and run gasoline-powered snow blowers outside, rather than in enclosed areas.
• Don't wear loose pants, jackets or scarves, which can get tangled in a snow blower's moving parts.
• Wear ear plugs or other hearing protection, especially when operating gas-powered models.
• Do not disable your snow blower's operator presence control. Most snow blowers built since 1975 have this feature, which causes the machine to stop when the user releases the controls.
• Do not use a snow blower on steep slopes. Use extreme caution when clearing snow from mild slopes, especially when changing direction.
• Never operate a snow blower without good visibility or light.
• Never operate a snow blower if you are under the influence of medications, drugs or alcohol.