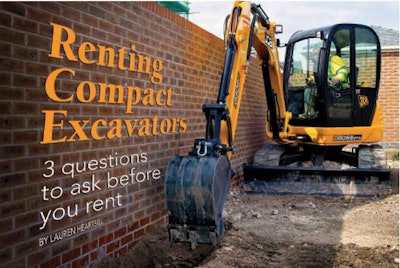 Renting a compact excavator obviously requires less commitment and money than purchasing a new machine, but you should still take time to carefully consider what you need from the equipment before visiting a rental yard. Understanding the project's demands, excavator's capabilities and operator's skill level assures you get the most out of the equipment and your money.
1. What does the project require?
Each project is different, as are compact excavators. Knowing the digging depth, reach, weight needing to be lifted, space limitations and weight restrictions will help you decide which excavator best fits your needs.
"You want to rent one machine that can capture all of the required jobs," says Chris Giorgianni, JCB North America general manager of marketing.
For job sites where space is an issue, look at machines with retractable undercarriages. Rubber, instead of steel, tracks minimize ground disturbance and leave a smaller footprint.
"If you don't get the right size machine, you can cause damage and problems," Giorgianni says.
Carefully consider which attachments you need, if the excavator can handle those attachments and if the rental yard has them available.
2. What is your experience level?
Whether this is your first time or thousandth time to operate a compact excavator, you should be completely familiar with the specific model you intend to rent. Every excavator model is different, whether it is the joystick, pedal or other features. Many rental yards offer videos on how to use their machines, such as how to change attachments and navigate the levers.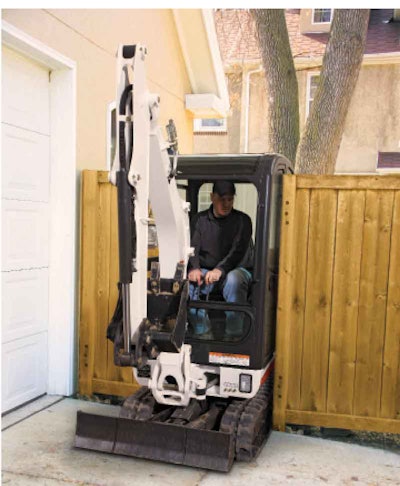 "It would be a shame for a landscaper to get the machine back to his job and not know how to operate it," says Tom Connor, Bobcat's excavator product specialist. "You waste a rental day if you don't understand how the machine works. Ask questions so there are no surprises."
3. What are the logistics?
Most excavators are rented by the day, week or month, with larger discounts for longer rentals. Rental rates are determined by the operating weight of the machine and usually go in increments of 1,000 to 2,000 pounds, says Rob Jackson, Caterpillar compact excavator product specialist.
"To maximize the value of the machine, the lightest machine should be rented that meets all of the above requirements at a minimum," Jackson says.
A standard driver's license will allow you to tow a machine up to 10,000 pounds, so consider renting a trailer and towing the excavator if it is lower than the limit. Renters also must provide proof of insurance.