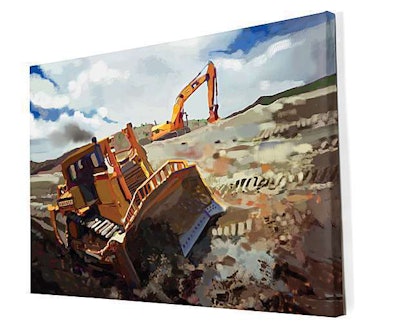 Landscapers use their expertise to transform projects into aesthetic masterpieces. Brad Burns has the same goal, but instead of skid steers and shovels, he uses a paintbrush.
Burns got his first taste of the construction industry in 2000 when he was commissioned to create paintings for The Engineering & Utility Contractors Association's (EUCA) magazine cover. Shortly after, Burns landed another job working with Preston Pipelines, an underground engineering contractor, to develop a series of large canvas paintings that would depict the company's experience.
With an art portfolio that now includes more than 300 construction paintings, Burns begins all of his projects in one of two ways: He will visit an active jobsite to make sketches and take photos, or he works from a series of digital photographs of a particular jobsite or piece of equipment. From there, he photocomposes the images and begins painting.
"I get my inspiration from construction workers themselves," Burns says. "They are generally excited about what they do, and boy, do they love big, powerful, earth-shaking machines."
He uses broad brushstrokes and distinctive details to tell each image's story, finding beauty in everything from a boom and bucket to the crew's laughter.
"I really enjoy working with everyone on a jobsite — from the office manager who is full of zeal for the company, to the business owner who is proud of his or her team," Burns continues. "They have wonderful ideas and insight. Their enthusiasm helps me capture the pride of the industry and then translate it into art."
To see more of Burns's work, visit constructionfineart.com.