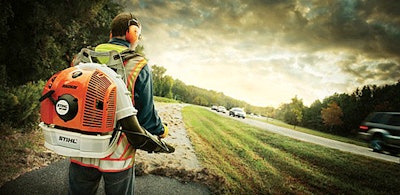 6 tips to help you get the most from your backpack blowers at the end of this season and the beginning of the next.
By Richard Ries
For backpack blowers, long days of leaf collection will be followed by long months of storage in most parts of the country.
Follow these tips to improve blower performance this fall and next spring.
1. Proper throttle operation: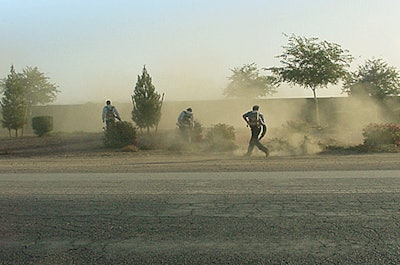 "Dust and noise can be tough on equipment and operators," says Dan Pherson, product manager at STIHL Inc. "Part-throttle operation reduces both (dust and noise) and allows leaves to be moved without displacing mulch. A skilled operator can achieve maximum efficiency with minimum noise and dust by observing good practices."
"Check the fuel and air filters, and air pre-cleaner (if equipped), which can load up quickly in dusty conditions."
(Some equipment manufacturers advise against part-throttle operation, however, saying it can inhibit cooling and combustion efficiency on some models. Consult the instruction manual or ask your dealer to see if yours is such a model.)
2. Check blower pipes for obstructions.
Ron Jensen, with service training and customer support at Echo, says operators should make sure all blower pipes are in place and the end pipe isn't damaged from use. Blower tubes dragged on the ground or used for prodding stubborn debris can become deformed and made smaller in diameter. This restricts air volume, reduces engine load, and causes the engine to run faster than it should. Over time, excessive engine speed can shorten bearing life and could lead to engine seizure. Always replace deformed end tubes.
"If you leave fuel in the machine, drain the tank and refill with a high-quality, ethanol-free fuel pre-mix."
3. Clear for dust and debris near critical parts.
Husqvarna emphasizes the need to remove accumulated leaves and other debris, especially around the air intake, fan shroud atop the engine, and engine cooling fins. Also check the fuel filter, air filter, and air pre-cleaner (if equipped), which can load up quickly in dusty conditions.
4. Check for fuel problems.
Craig Douglas, service technician for Bob's Power Equipment in Birmingham, Alabama says fuel accounts for 95 percent of the problems he sees with blowers. That includes stale fuel, fuel that has absorbed moisture from the atmosphere, and engines that are over-choked, often by operators who are trying to compensate for other conditions that make the engine run poorly.
5. Fall is a good time for tune-ups. One school of thought says to do tune-ups in spring so equipment is at peak performance at the start of the season. But if the weather breaks suddenly, tune-ups may be overlooked in the haste to return to customer work. And backordered parts in fall are an inconvenience while in spring they're a crisis. Fall also allows time to be taken so that the tune-up includes replacement of not just engine parts (filters, spark plugs) but also belts, blades, faulty switches, torn covers, control bar padding, and all the other wear-and-tear items on equipment.
6. Store properly.
Advice varies among OEMs whether to store the blower with fuel or empty. To empty the fuel system, drain the tank and either run the engine until it dies or use the purge bulb to clear the carburetor. If you leave fuel in the machine and if you use pump fuel, drain the tank, refill with a high-quality, ethanol-free fuel pre-mix available from equipment dealers, and run the engine long enough to fill the fuel system with that fuel.
SAFETY FIRST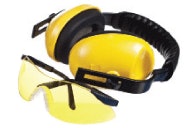 Noise and flying debris create a hazardous work environment, and proper protection is required to prevent worker injury. All crew in the work area must have properly-fitted personnel protective equipment in use. Also make sure guards, heat shields, and other safety components are functioning properly. This includes the controls, shoulder straps, and other points of interface between the operator and the machine.
Steps should be taken to prevent long hair and loose clothing from becoming entangled in the intake impeller.