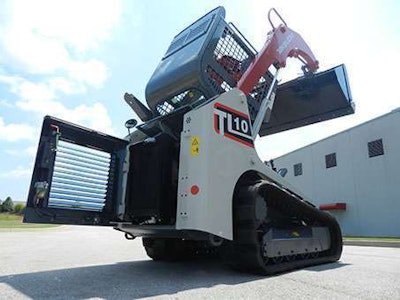 We all know that time is money, and when the projects start lining up, we need our equipment to be reliable and safe.
It goes without saying that working with construction and earthmoving equipment, no matter what size, can pose many dangers to operators and other tradesmen on a job site. These risks can be minimized substantially by following the proper operating procedures and always performing a daily routine check before a machine is started up.
Excessive wear on machine components, low tire pressure, loose tracks, hydraulic leaks and even low fluid levels can create a myriad of hazardous conditions on a jobsite — most of which can be mitigated with regular safety inspections.
Here's a safety checklist from Takeuchi.
Exterior walk-around inspection
Perform a daily visual inspection of the exterior and undercarriage of the machine. Check the tracks for signs of wear, and make sure track tension is adjusted properly. If you're working with a skid steer or wheel loader, check the condition of the tires and be sure that they are inflated to the proper PSI. Something as simple as a flat tire can cause an unnecessary amount of downtime on a jobsite — not to mention the potential hazards it can create.
Look for any obvious damage to the exterior of the machine. Check all of the hydraulic hoses for wear and damage, and look for any excessive pooling of hydraulic oil — now is the best time to diagnose any potential leaks. Also, be sure to check the bucket, bucket teeth, cutting edge or other attachment for excessive wear and damage.
Make sure all of the pivot points of the machine are properly greased, as this can significantly impact the performance of the machine, cause significant damage to components and pose unnecessary safety risks. Finally, check all work lights to ensure that they are in working order.
Engine check
Once you've inspected the exterior of the machine, open the engine hood and other compartments and make sure that the engine and other components are clean and free of leaks or other signs of damage. Check fluid levels, making sure the engine, hydraulic oils and coolant are at their recommended levels. This is a good time to top off the fuel tank as well.
Inspect the air filter, and make sure that it is clean and free of build-up. If it looks like it needs to be replaced, it's best to do it now before it adversely affects the performance of the machine. Next, check the battery and make sure it is clean with no signs of corrosion or damage. Also ensure the battery is well-secured within the compartment, and that the leads are properly tightened. If you see damage to the engine components or any sign of leaks or damage, contact your maintenance technician right away. Letting a maintenance issue go undiagnosed to get on with the day can unnecessarily put people in harm's way.
Inside the cab
With the ever-present build-up of dirt and debris, this is an area that is easily overlooked. It is important to keep the operator's station clean and free of debris. Debris can interfere with travel functions on excavators and foot throttles, brake pedals and inching pedals on loaders.
Debris can also cause slip hazards for the operator. Check the steps, pedals and floor area, making sure they are cleared of any debris. Check the seat, and make sure the seat belt mechanism is working properly and inspect the belt for any fraying or damage. Finally, check the mirrors and windows and make sure visibility will not be obstructed during operation.
At the end of the day
It is always a good practice to leave something as you found it. At the end of a long day, the machine should still be running smoothly, fluids should be at their proper levels and the machine should be cleared of any build-up and debris. Many contractors require records be kept for a machine and that inspection notes be in order to ensure that different operators on a job are aware of any issues.
Again, damage found during an inspection that isn't properly repaired and serviced can cause unintended safety risks and dangers on the job. Daily inspections are one of many precautions that can be taken to improve the safety of your jobsite. Always follow the manufacturers recommended safety procedures, and work with your maintenance provider to develop a regular maintenance plan.
Source: Takeuchi