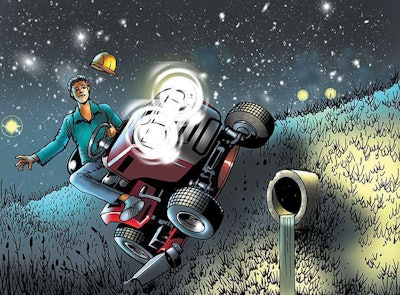 Mowing After Hours Could be Costly
A lawn maintenance crewmember is cutting the grass in a drainage ditch at 10:45 p.m. with limited visibility because of the darkness. The ground is at a 45-degree angle. While mowing, he hits the concrete drain tile. The mower flips over, lands on the operator and crushes him. He dies of chest injuries.
If the worker had worn a seatbelt or used a mower with a rollover protection structure (ROPS), his death could have been prevented. Before attempting to mow a steep area, crewmembers should first look at the equipment's manual to see the maximum slope allowed for that specific machine. Here are more tips for preventing rollovers.
Read the full story and find additional safety tips here.
<==No. 7 No. 5 ==>