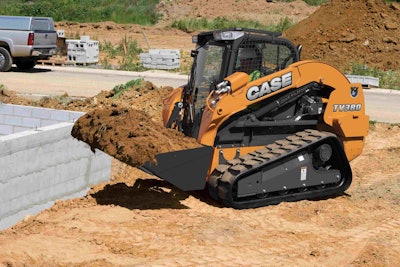 Compared to skid steers, compact track loaders cost more, have slower travel speeds, are better in soft underfoot conditions and handle slopes better. Common knowledge. But if your assessment of the performance of CTLs and their potential for your business stops with the commonplace, you can't make the right decisions regarding their use.
Cost
First, the cost factor. It's true that a CTL typically costs 30 percent more than a comparably-sized skid steer, which amounts to an upcharge of $10,000 to $15,000.
But that CTL will offer performance advantages that increase productivity and may more than offset the initial cost over the service life of the machine. One of the challenges for contractors making the switch from skid steers to CTLs is to make accompanying changes in their business practices, according to Mike Fitzgerald, product specialist with Bobcat.
"Assess your work practices and procedures and related billing charges to maximize the advantages of a CTL," he says. "Faster production means you can move on to another job sooner and you'll be able to work on wet days when you otherwise could not."
Lars Arnold, product manager with Volvo North America, says it's important to understand the difference in establishing rated operating capacity when calculating productivity. Skid steers are rated at 50 percent of tipping load, whereas compact track loaders are rated at 35 percent.
"The intent is to reflect the understanding that CTLs are more likely to be operated on soft ground and on slopes, and the 35 percent figure is more realistic in these conditions," Arnold says. So if an skid steer and CTL both have tipping loads of 7,000 pounds, the skid steer will have an ROC of 3,500 pounds and the CTL of 2,450 pounds. (Even OEMs that list a CTL's 50 percent figure first will provide the 35 percent number as well.)
Tracks and undercarriage
A big factor in the cost of operation of a CTL is in the tracks and undercarriage, but that's largely controllable, says Jamie Wright, product manager at Terex. "The most common cause of premature track failure is operating technique. Many operators run their CTLs as they would skid steers, doing counter-rotation spin turns and spinning the tracks when driving into a pile to more fully fill the bucket. These practices will increase wear and tear on tracks, especially in rough underfoot conditions."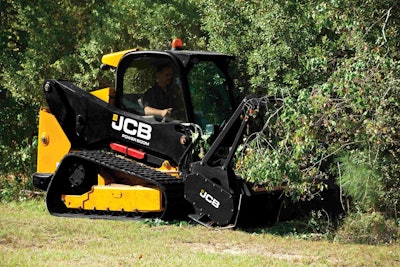 He advocates running CTLs as any other crawler machine, using three-point turns, alternating turns to the left and right to even out undercarriage wear, minimizing backing, and avoiding sudden changes in direction.
Powered by the Ecomax engine, which uses up to 9 percent less fuel than previous engines, the JCB 300T uses an air filter design with a high-efficiency active scavenging pre-cleaner, extending air filter service life up to 500 hours. Electro-hydraulic controls give you three levels of response, from slow modulation for fine trimming, to faster controls for digging and loading.
Wright says payback on a CTL is approximately 18 months when the machine is managed properly to take full benefit from its advantages.
Travel speed
Arnold says that Volvo's single-speed skid steers top out at 7.5 mph and single-speed CTLs at 5.7 mph. Numbers for the two types when configured as two-speed models are 18.5 and 7.8 mph. So the two-speed CTL has only marginally faster travel speed than the single-speed skid steer.
But travel speed only matters in some applications, says Paul Wade, marketing manager at New Holland, "and for most applications where CTLs are best-suited, travel speed isn't a factor."
Sometimes it goes beyond the application to the attachment used in that application, explains Gregg Zupancic, marketing manager with John Deere.
"Typical ground pressures are 30 to 35 psi for skid steer and 4 to 6 psi for compact track loaders, making skid steers better for blade-type snow removal despite CTLs' greater push. A skid steer's higher ground speed also facilitates snowplowing. With a snowblower attachment, the CTL may be a better choice because speed is less important for results and the CTL's better tractive effort emerges as an advantage."
Arnold says one spec to watch is operating weight. "A CTL will have about 20 percent more weight than a comparable skid steer, which may raise transportability issues."
Attachments
Essentially all attachments that work on a skid steer will work on a compact track loader, and CTLs and skid steers of comparable size have comparable specs as far as dump height and reach. But CTLs' more stable demeanor gives them the edge in some tasks, such as front grading. (The distinction disappears with back grading and either type of machine performs that task well.)
CTLs are also great for trenching, says Warren Anderson, brand marketing manager for Case. "Trenching typically takes place in a finished yard, and CTLs provide minimal rutting and low ground pressure. And as with grading applications, CTLs provide a smoother and more consistent path with a trencher due to their great stability and lower tendency to bounce."
Anderson says CTLs also react better to obstructions and surface irregularities, tending to glide over them rather than moving up and over, as does a skid steer.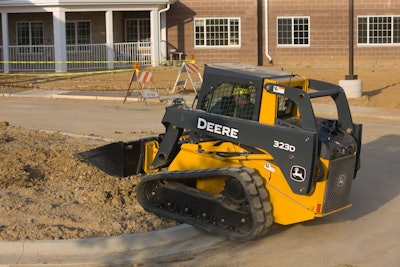 "Asphalt profilers are becoming popular on CTLs," says George Chaney, international sales manager of skid steers and CTLs at JCB. "With their greater lift capacity, lack of bounce, and overall greater stability they produce a much tighter finished spec."
The E-Series compact track loaders offer 25 percent more foot room than previous models. Low-effort electric-hydraulic controls on the 333E are available for ISO, H and foot control patterns; an option allows you to switch between all three control patterns. Powered by a 3.3-liter diesel, the large-frame model has up to 10 percent more horsepower than the previous D-Series models.
Kelly Moore, product training specialist at Gehl, says landscape tools are an especially good match for the operating characteristics of CTLs. "Ground preparation, leveling, and finishing work are perfect uses of a compact track loader. But," he warns, "this assumes the general conditions are suitable for a CTL.
If conditions are not right for a CTL, if there's a lot of rock or other hard, abrasive material, a CTL is not the right machine for the job no matter how well it matches the attachment required for that job."
Because CTLs have greater lift capacity, they are well-suited for larger, heavier attachments. "With their long, stable lift platform, CTLs handle heavier work tools well," says Kevin Coleman, senior marketing engineer at Caterpillar. Examples he gives include mulching heads, brush cutters, wheel saws, and large cold planers.
With their high lift capacities, CTLs can carry some big attachments and the weight of the attachment may not be the limiting factor in matching it with your CTL. So Wright emphasizes the importance of matching an attachment with a loader's hydraulic system.
"Pay attention to the attachment's flow requirements," he says. "If the hydraulic system is underrated for the total demands of the CTL and its attachments, operation may be sluggish with attachments requiring continuous flow, such as augers and brooms. Or the CTL may cut flow to the attachment altogether." He recommends working with the dealer from which the CTL was purchased to ensure desired attachments will work with a given CTL.
CTLs may be prone to overheating in applications with high hydraulic requirements if performed in hot conditions, says Zupancic. One example would be cold-planing asphalt on a hot day. This is because the CTL's undercarriage and tracks put additional load on the hydraulic system. "This doesn't mean CTLs can't be used for these applications," he says. "It does mean that operating technique and machine maintenance become even more important."
Interestingly, sources diverged on the suitability of CTLs for forestry and land clearing. Some said those applications were perfect for a CTL's power, tractive effort, stability on slopes, and ability to handle heavy attachments.
Others said the presence of sapling stumps and other harsh materials would compromise track life. The disparity underlines the fundamental distinction between a compact track loader and a skid steer: aggressive underfoot conditions generally exclude CTLs and favor skid steers.
Options
As with skid steers, CTLs are available with either vertical or radial lift. But vertical is more common than radial on CTLs and radial is usually found on the smaller machines. Arnold says the same rule applies to CTLs as skid steers: "If the operator looks down at the attachment, radial is better. If the operator looks up, vertical is better."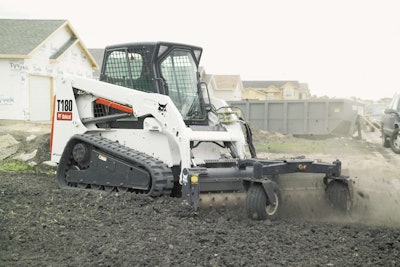 Operators are more productive when using a familiar control pattern, so most OEMs provide choices. Deere offers three: joystick controls with switchable ISO or H patterns and foot controls. Joysticks on Volvo machines can be switched between ISO and H pattern; Volvo does not offer foot controls. Case also offers ISO and H patterns via a rocker switch and operators can further adjust machine performance with up to nine presets through the EZ-EH (electrohydraulic) controls.
Because a high percentage of CTLs go to owner-operators, comfort and convenience features are often spec'ed on these machines, says Chaney. Examples include enclosed cabs, HVAC, heated and adjustable seats, two-speed travel, a power quick hitch, and JCB's Smooth Ride System (SRS), which provides boom cushioning to help maintain full bucket loads and improve operator comfort on rough terrain. The company's protection package includes Level II FOPS, front and side screens, and other beefed-up safety items and is popular in forestry and land clearing applications.
Some OEMs offer only one size of tracks with their CTLs. Bobcat offers two, a standard and a wide. Volvo offers two widths – 12 and 18 inches – for their mid-range MCT110C and MCT125C models. JCB's track options include turf and all-purpose. Terex offers three tracks: general purpose; smooth/turf; and extreme terrain, with 10 percent more width and aggressive track treads.
With other crawler machines, such as dozers, underfoot conditions often dictate track width. Soft conditions require wider tracks, as on low-ground-pressure (LGP) machines, to provide additional flotation. Rocky conditions will twist wide tracks, accelerating wear on them and other undercarriage components, so narrow tracks are best there. Fitzgerald says track width is determined by ground conditions, required flotation, and maximum acceptable machine width.
Caterpillar offers two distinct types of compact track loaders. In addition to a line of product named compact track loaders, they also offer Multi Terrain Loaders, which are designed to have even lower ground pressure. The MTLs come with wide tracks as standard equipment, and the use of different materials in the tracks and undercarriage sheds some weight. For example, their 289D CTL has an operating weight of 10,533 pounds, an ROC of 2,660 pounds (at 35 percent of tipping load), and ground pressure of 4.6 psi. Their 287D MTL has an operating weight of 9,929 pounds, an ROC of 2,800 pounds (at 35 percent), and ground pressure of 3.9 psi.
PM and daily checks
Track tension is key to minimizing problems and costs with CTLs. Too loose, and the machine can de-track. Too tight, and undercarriage and track wear are accelerated. Track tension should be part of every day's walk-around and the tracks tensioned as required. This usually takes only a few minutes and is accomplished by adding or bleeding grease from a cylinder that expands or contracts to adjust tension.
Gehl machines offer IdealTrax Automatic Track Tensioning System. "The system automatically tensions the tracks at start-up," says Moore, "and it maintains correct, continuous tensioning while the machine is operating. At shutdown the tracks automatically slack, reducing load on the tracks, bearings, and rollers and extending the service life of those components."
"There is a specific place in the market for CTLs," says Wade. "They go hand-in-hand with skid steers but work in different environments. Customers need to evaluate their working conditions and use the machine best-suited to those conditions while also adjusting their business practices to take advantage of that machine type's strengths and weaknesses."
By Richard Ries