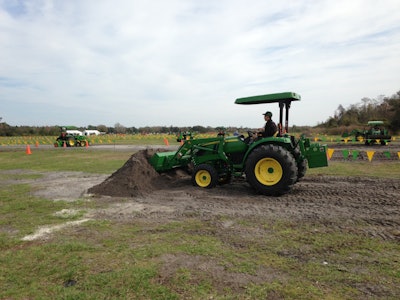 John Deere showcased its 4M and 4R Series compact utility tractors during a dealer ride-and-drive event in Orlando, Florida, Tuesday. The models will be available starting in April.
The line includes six models – 4044M, 4052M, 4066M, 4044R, 4052R and 4066R – and the Tier 4 Final engines range from 43 to 66 horsepower on the compact utility tractors (CUTs).
The 4M machines are equipped with a hydrostatic transmission with Twin Touch Pedals. A power reverser transmission on the 4R Series slows the transmission down when the operator uses the forward or reverse control function. Four-wheel drive comes standard on all 4M and 4R CUTs for tough applications and harsh ground conditions.
The operator station features a flat floor, ergonomic controls and a fully independent PTO. Hydraulic options are available for those customers who are interested in using attachments. Optional wheel spacers provide 11 inches of additional room on the axle and are ideal when the tractor is used on inclines or slopes.
The 4R tractors boast Hitch Assist, which enables implement attachment. This function eliminates the need to go back and forth from the seat to the hitch because the operator can control the tractor and hitch while standing behind the machine.
All 4R models feature integrated hydrostatic transmission controls on a single panel. Operators can easily select eThrottle that matches engine RPM to hydrostat pedal position, LoadMatch to automatically adjusts engine-speed based on load, MotionMatch to adjust the responsiveness of the transmission and SpeedMatch to enable automotive-style cruise control.
John Deere also launched several implements including the D170 loader, H180 loader and 485A backhoe. The D170 loader is both 4M and 4R compatible and is a factory-installed option on the 4M.
The H180 is 4R compatible and features a self-leveling option and a Quik-Park mounting system that allows for removal/mounting without the need of tools. The 485A backhoe can compliment an excavation job.
All 4 Family tractors come standard with an open operator station. An optional ComfortGard Cab is available on the 4044R HST, 4052R HST and 4066R HST tractors. The cab also enables 360-degree views with forward work lights, front windshield wiper and an integrated radio antenna.
Watch a video of a walk around with the 4M compact utility tractor, and see more photos of both the 4M and 4R below.
[youtube etL74C9dDNs&feature=youtu.be nolink]