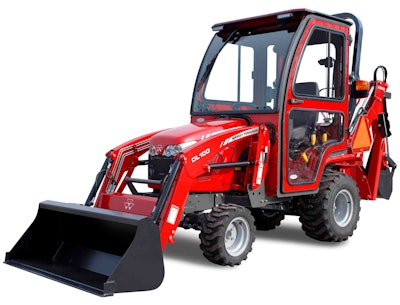 An additional cab system is now available for Curtis Industries' Massey Ferguson GC1700 series sub-compact tractors.
The all-steel cab frame, doors and roof are made of powder-coated commercial grade steel and features a tilt-out windshield, as well as dual slider glass windows.
Operators can mount the cab separately from the existing factory Roll-Over Protective Structure (ROPS).
Additionally, the doors are pin-hinged for removal purposes.
The rear panel removes quickly and pop-up roof is supported with gas shocks for tractors equipped with backhoe operation.
A second cab version is available with vinyl doors with a welded structural-steel frame, full perimeter weather stripping and clear vinyl rear panel.
Both cabs fit the full line of Massey Ferguson GC1700 series tractors, including the GC1705, GC1710, GC1715 and GC1720.
Additional features include lockable doors, as well as a 12VDC windshield wiper. An optional rear wiper is available for the all-steel cab.
Operators can also customize the cab with accessories such as a roof-mount LED strobe, as well as work lights, rear work lights, mirrors and heater.