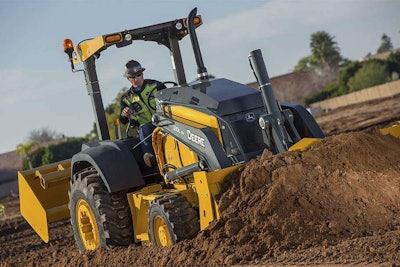 Following the release of the company's six latest backhoes in April, John Deere has expanded the L-Series lineup with two tractor loaders.
And though the new 210L and 210L EP share quite a bit in common with the L-Series backhoes, Deere's marketing manager for backhoes and tractor loaders, Brian Hennings, says "these machines aren't just modified backhoes. The 210L EP and 210L are purpose built for tractor loader owners and their unique applications."
Deere has seen increased adoption of the loaders as of late and calls them ideal for many earthwork, land clearing and landscaping applications.
The loaders feature a new hitch design which makes it easier to position the box blade over a pile. Plus, dual-tilt hydraulic cylinders are an available option, providing three-point, side-to-side hitch control of rear attachments. A quick-coupler is another available option for accepting a wide variety of attachments.
Deere says the machines' three-point hitch and optional power takeoff (PTO) are capable of accommodating many Category 2 tools such as disks, mowers, blades and box scrapers. The 210L is powered by a 93-horsepower, Tier 4 Final Deere PowerTech Plus engine, while the 210L EP features a Tier 4 Interim, 70-horsepower PowerTech E. Both machines pair their respective engines with a four-speed PowerShift tranny.
A new hitch design makes it easier to position the box blade over the pile for added versatility and productivity. Two rear ballast-weight packages (700 and 1,500 pounds) increase versatility in various loader applications. Optional dual-tilt rear hydraulic cylinders provide greater three-point side-to-side hitch control of rear attachments.
Both the 210L EP and 210L can also be outfitted with a quick-coupler to accept numerous attachments. The integral three-point hitch and optional power takeoff (PTO) accommodate a variety of Category 2 tools.
Updates to the cab, which can be equipped with a canopy or a sealed cab with heating and air, have improved visibility and operator comfort including increased seat rotation up to 70 degrees for a better view of the box blade and a larger right-hand armrest.
The cab also features a new palm-on-top loader control grip which gives fingertip control of clutch disconnect, momentary mechanical-front-wheel-drive (MFWD) and other functions. "The clutch cut out really comes in handy when loading trucks," Hennings told us at the reveal of the L-Series backhoes. "It lets the engine rev up as you dump the load and releases when you no longer need it."
The MFWD function can be engaged for extra traction. An optional limited-slip front axle delivers 65 percent of available power to the tire with the best traction for true all-wheel-drive pulling power. A new in-cab monitor shows machine diagnostics and controls, and allows operators to program functions such as auto idle and auto shutdown. L Series owners can also opt for John Deere's Ultimate Uptime program, which includes the John Deere WorkSite suite of programs: JDLink machine monitoring system, machine health prognostics and remote diagnostics and programming.
Deere says entering and exiting the cab is easier than before and visibility around the canopy is improved by a new fender design and an improved lighting scheme. The available premium LED package includes two front spotlights, two rear and two side floodlights.