Earth & Turf Products' new "CarryCat" tool carrier, which the company is introducing this month, is specifically designed for landscape contractors, who have long represented Earth & Turf's No. 1 market.
The company, based in New Holland, Pennsylvania, says the CarryCat is built to fit three-point hitches on compact tractors. It's made to accommodate the most commonly used landscaping hand tools, the company says.
Features include stand-alone storage with adjustable stand-off feet to suit a variety of tractor sizes, adjustable gasoline-can holder, soft-lined chain-saw mount, and receiver for drawbar.
For more information, visit the manufacturer's website here.
Soil Tech's Phydura herbicide safe for schools
Phydura herbicide maker Soil Tech Corp. says the product has been designated by Cornell University as an "Allowable Herbicide for use in Schools and Day Care Centers."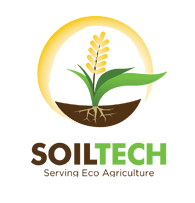 Phydura is an all-natural, non-selective spray application that has no re-entry interval. Weeds controlled include both grasses and broadleaf weeds.
Phydura is labeled for use in landscape, schoolyard, nursery, greenhouse, horticultural settings, dog parks and gardens.
According to Cornell's Department of Horticulture, Phydura does not need emergency application approval.
"The post-emergence herbicides that qualify under the EPA exemption of 25(b) of FIFRA (the Federal Insecticide, Fungicide, and Rodenticide Act) work primarily as defoliants that knock down the leaf and stem tissues of plants in contact with the herbicide," the university states in an assessment.
Soil Tech says Phydura is 100 percent biodegradable and has a pleasant scent. The product is available as a liquid concentrate that is diluted with water. For more information, visit this webpage.
Frustrated landscaper designs Super Duty Rockaway
Ideal Manufacturing says its new Super Duty Rockaway Model 7415SD is available now, the result of a re-design aimed at improving performance and durability. Improvements include a stronger hood design, front push bar, heavier tube frame, stainless steel wear runners, enlarged rotor shaft, heavier-duty bearings, and new, larger #80 drive sprockets and chain.
The new Super Duty Rockaway accommodates 68- to 73.5-inch buckets. Matching companion buckets are available, and the same Rockaway can be used on several different buckets of the same size.

Ideal Manufacturing says the Rockaway attaches and detaches from a loader bucket easily in minutes and quickly turns rough, rocky ground into a groomed seedbed. The company says the attachment tills and fluffs soil while removing rocks.
Separation of rocks from soil is done by a single, rugged rotor, studded with durable Hardox steel teeth arranged in a spiral pattern.
Ideal Manufacturing says the attachment was "designed and built by a landscaper frustrated by costly chain and slat replacement on competitive units."
The Rockaway device is simple in construction and inexpensive to maintain, the company says, with only two greaseable bearings and one chain.
Husqvarna's adds new models to Automower line
Husqvarna, the world's largest producer of outdoor power products, including robotic lawn mowers, has added three new models to its Automower line, which the company first introduced more than 20 years ago.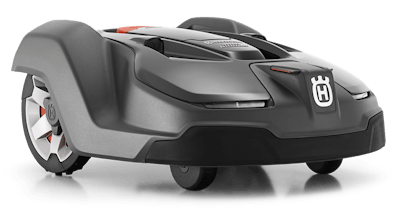 The models – Automower 315, for areas up to 0.37 acres; Automower 430X, for areas up to 0.8 acres; and Automower 450X (pictured here), for areas up to 1.25 acres – feature new technological capabilities, including a complementing mobile app, that Husqvarna says are unprecedented in the industry.
Husqvarna says more than two decades of work have led to refinements of its robotic mowing devices, which achieve the highest level of reliability, quality and cutting result.
All Automowers cut grass automatically, without supervision, and work in variable weather, on rough terrain and slopes up to 45 percent. Husqvarna boasts, too, of their "silent, emissions-free performance."
With Automower 450X, users can take advantage of Husqvarna's Automower Connect smartphone application, which enables users to operate and monitor their mower from anywhere in the world. Compatible with Android and iOS devices, including Apple Watch, Automower Connect includes access to the mower's control panel, making it possible to change settings remotely.
In case of theft, Automower Connect activates an alarm and tracks the mower's position.