Last week, TLC sister publication Equipment World shared a gallery of vintage pickups from this year's SEMA show. Missing from that gallery was perhaps our favorite vintage truck from this year's show, the imposing Sgt. Rock.
Not only does this truck have a hell of a look to it, it's got the history to match.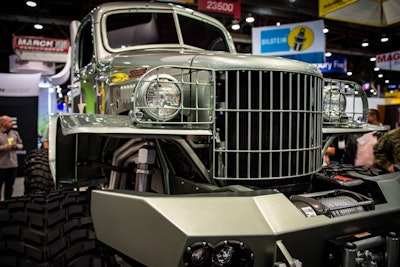 As builder Stacey David explains on his website, he set out to build a big rig with serious off-roading capability using a vintage pickup from World War II.
Specifically, he wanted a 1941 Dodge half-ton 4×4 Army truck. Trouble was, that '41 model was only made for one year, with a total of just under 80,000 units made.
Finding one was tough, but luck had it that after years of keeping his eyes peeled, David located a '41 Dodge "hidden in some trees about a mile from my parents' house in Belleview, Idaho."
The truck was missing the original bed and had a snowplow attached to the front, but David saw that the cab, fenders, hood and grille "were not only rust free, but they were extremely straight."
David breathed new life into this rare war truck using a 6-cylinder, in-line, L-head engine that produces a huge 850 horsepower.
The truck features a custom fabricated radius arm suspension with Predator racing nitrogen gas shocks with 14 inches of travel.
In the bed of the truck is a mounted machine gun and on the tailgate is a painted tribute to all of those who have served in the U.S. military.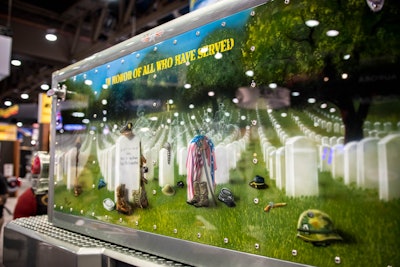 EDITOR'S NOTE: Wayne Grayson is the 0nline managing editor of Equipment World, another Randall-Reilly publication.